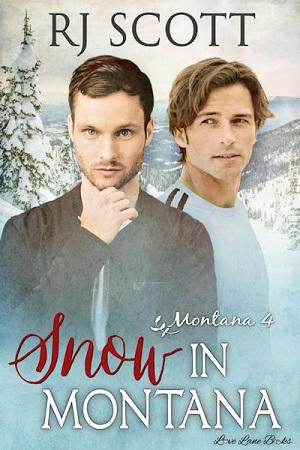 Title: Snow in Montana
Series: Montana 04
Author: R.J. Scott
Genre: Contemporary, Cowboys 
Length: Novel (Novella 160pgs)
Publisher: Love Lane Books Limited (December 7, 2016)
Heat Level: Low
Heart Rating: ♥♥♥♥♥ 5 Hearts
Blurb:  An actor in the closet, a sheriff in love, and memories that won't stay hidden.
Jordan Darby is known as the King of Christmas. The star of eight made-for-TV Christmas movies, the leading man who always gets his girl. Filming at Crooked Tree Ranch in Montana, in the ice and snow, Jordan is fighting to make a go of his new company and dealing with fears of exposure over one huge secret. After all, who the hell would buy into him being a romantic straight lead if rumors about him being gay were proven to be true?
Sheriff Ryan Carter is advising on the new movie being made at Crooked Tree. He hoped this would be one day of work and nothing more. Until, that is, he meets the hero. But while Jordan is sexy, he's also very much stuck in the closet—everything that Ryan doesn't need in his life. And then lust becomes part of the equation, and Ryan's quiet life is thrown into turmoil.
Their story unfolds against the chaos that overtakes the ranch, with Adam regaining memories that terrify him and make him look at Justin differently, and Justin leaving the ranch to make things right. Only through trusting in love and friendship can Justin and Adam learn to look to the future instead of letting the past destroy everything. But will they ever see clearly enough to do that?
ISBN: 978-1-78564-059-9
Product Link: Amazon US | Amazon UK
Reviewer: Lisa
Review:  Each book in the Montana Series collection features a different romantic couple. To enjoy the overall story arc and crossover characters, I would recommend reading the series in sequential order.
This book is not just about our romantic couple but also has important events related to two of the other couples that are in love.  I have always loved how ranchers name their ranches, it is always so unique.  This story is based at the Crooked Tree Ranch, and I suppose you will just have to read the previous books for that reason, but it is fairly understood.  I have always loved a good Christmas story and the way this author writes them makes it even better for me.  You have action, hot sex, a little bit of danger, suspense and so much more going on in them.  The only thing that I am not a fan of is the jumping from one perspective to the next.  
You know when you meet someone for the first time, you look at them and make an assumption about them, well let's just say that was Ryan.  Ryan is a sexy sheriff who is going to be doing security on the ranch while a film company is there.  He takes one look at Jordan and assumes the man is a drunk and an ass.  Comes back to bite him in the ass, because he also notices Jordan is one hell of a sexy man.  Too bad Jordan doesn't plan on coming out to his fans that he is gay, for our sexy sheriff is already out.  It turns into a sweet romance with very little problems, well except for the out part.
Then there is all the other characters in the story, that is where the angst comes from.  Justin was a killer for the government, sent in to kill Jamie, who just so happens to be Adam his best friend.  Adam has no memories, but his dreams are showing him what has happened with a little bit of help.  And for him Justin is in the middle of it.  And that is just a part of the angst in this book.  I love the secondary characters and am very glad there was no sexy time with some of them.  
Let's just say that it isn't really all that Christmas themed in a sense but it works out pretty good.  Not all that much drama well except for the, well you will just have to read that.  Jordan's sexy twin Micah and Micah's girl friend were a great add in as well.  This whole story just rocked for me and I enjoyed reading it. 
I can't wait for the next book that comes out and I would definitely recommend this story.