Hi guys! We have B.A. Tortuga stopping by today with her upcoming release Stetsons and Stakeouts, we have a brilliant guest post and a great exclusive excerpt so check out the post and enjoy! ❤ ~Pixie~
Stetsons and Stakeouts
by
B.A. Tortuga
Gianni Cesare is a DEA agent and rancher—who also happens to be a millionaire heir to an Italian count. Running a multiagency sting out of his East Texas ranch means he needs a new foreman… preferably someone a little wet behind the ears who won't ask too many questions.
Gianni's Aunt Jerilyn hires Bonner Fannin, a roughstock rider with zero ranch experience and a sister who's pregnant with a violent biker's twins. If that's not bad enough, Bonner is pretending he and his sister are married to protect her and to help get him the job.
Gianni didn't think Bonner was the marrying type during their torrid beach affair years ago, but he's not sure if he has time to explore that thought now, as overrun as his ranch is with drug cartels, macho government agents, and local cops. Looks like Bonner and Gianni are both in over their heads, and they may have to band together during this adventure to swim rather than sink.

B.A. Tortuga!

Hey y'all! I'm BA Tortuga, resident redneck and lover of all things tropey.
So, I have to tell y'all a story.
All my books literally start with my looking at my wife and saying, "Baby, what if there was this (guy, girl, ghost, vampire, dog, whathaveyou)."
All of them.
Stetson and Stakeouts started with "Baby, what if there was this super-rich Italian lord who was also a DEA agent with a huge ranch in Texas and he was running a multi-agency drug sting out of his ranch and his former fling/rodeo cowboy needed a job because his sister was pregnant with a biker's twins?"
*grins*
Her answer was "Oh Jesus wept, woman. What is wrong with you?"
Fortunately for me, Lynn West at Dreamspinner's answer was "gimme gimme".
Ninety thousand words, two gun fights, some wild sex, two kidnappings, and a bar fight from hell later, I am tickled as hell to introduce y'all to Gianni and Bonner.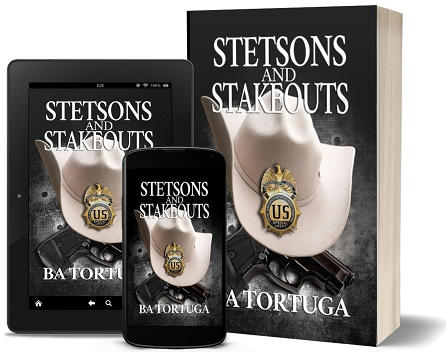 Exclusive Excerpt!
The knock on the door came right on time, and he barked, "Entra."
"Mornin', sir." The door opened, offering him a backlit visual of a straw hat, broad shoulders, tiny waist and ass, bowed legs. His favorite kind of—
The cowboy stepped into the light, and Gianni's eyes widened. He knew that face, those blue eyes. Jesus. He'd spent a sweaty, spanky weekend with this guy in Padre six years ago.
He still had some really good dreams about it.
Fuck. Fuck. He schooled his face. He was older now, coiffed. Not some shaggy stud in Speedos. This was his job—to be someone else every assignment.
"Come in," he repeated in English. "Have a seat."
"Thank you, sir." Bonner Fannin nodded once, then perched on the chair before the desk.
"My aunt did not tell me you were so young." He deepened his accent to sound more Italian.
"Yeah, she took a chance with me. She was real kind."
"She is." He studied Bonner, whose head was down, eyes on the floor. Did the man even remember all that acrobatic wonderment?
Surely he did. They had turned each other inside out; he had touched Bonner deep. Hell, he hadn't known cowboys could be that flexible.
He bit back a grin. "So, you think you're up to this challenge?"
"Yessir. I can manage. I can follow directions, and you got a good team." He remembered that scar that cut from the corner of Bonner's lip to his jaw. The guy was a bull rider. He had abs for days….
"Bene. I want someone who can go between my aunt and the hands, sì? She is not getting younger, and I want her to have more time."
"Yes, sir. I will take care of it. Is there anything specific you want me to focus on?"
He wanted to say "my dick" just to see what Bonner would do. Instead he only smiled, knowing he looked like an Italian shark. "Just the day-to-day realities of the ranch. She shouldn't have to order feed or schedule the farrier."
"One of the new hands is a farrier. Even if we still call someone in, that will be a big help."
Oh, who had that skill? Someone was being sneaky. "Mr. Clarins has been the farrier for years, so I would not want to deny him the work, but having someone on the staff is a good idea."
"Of course. The previous foreman left lists."
That sounded ominous. Gianni didn't even know who the previous foreman was. "Have you met with my aunt to make sure those are all correct?"
"Not yet. She scheduled me for tomorrow." Bonner did smile a little now. "She had bingo today."
"Bingo." He let himself sound disdainful, but it was really jealousy. That had to be more fun than work. And it looked like Bonner liked Jerilyn, while he wouldn't even admit he knew Gianni. Not that Gianni was going to admit he remembered Bonner. Not one bit.
He leaned back in his chair, stretching, and Bonner's eyes slid right down his body.
Oh, Bonner remembered him.
Much love, y'all,
BA

About B.A.!
Texan to the bone and an unrepentant Daddy's Girl, BA Tortuga spends her days with her basset hounds and her beloved wife, texting her sisters, and eating Mexican food. When she's not doing that, she's writing. She spends her days off watching rodeo, knitting and surfing Pinterest in the name of research. BA's personal saviors include her wife, Julia Talbot, her best friend, Sean Michael, and coffee. Lots of coffee. Really good coffee.
Having written everything from fist-fighting rednecks to hard-core cowboys to werewolves, BA does her damnedest to tell the stories of her heart, which was raised in Northeast Texas, but has heard the call of the  high desert and lives in the Sandias. With books ranging from hard-hitting GLBT romance, to fiery menages, to the most traditional of love stories, BA refuses to be pigeon-holed by anyone but the voices in her head.
Facebook |  FB Author Page | Twitter | Pinterest  | Blog | Website | Instagram