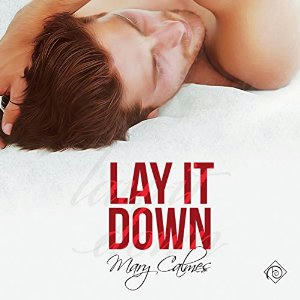 Title: Lay It Down
Author: Mary Calmes
Genre: Contemporary 
Narrator: Alexander Collins
Length: 4 hrs 38 mins
Publisher: Dreamspinner Press (26th August 2016)
Heat Level: Moderate
Heart Rating: ♥♥♥ 3 Hearts
Narration: ♥♥♥♥ 4 Hearts
Blurb: Paradise can be hell. Most people would say being stranded in the villa of Spanish shipping magnate Miguel García Arquero on the beautiful isle of Ibiza wasn't such a bad deal. But Hudson Barber isn't one of them. To him, being stuck without a passport in a foreign country far from home is a nightmare, made worse by the fact that the person who did the stranding was his flighty twin brother.
Unwilling to turn Dalvon in for identity theft, Hudson is forced to wait, but meanwhile he discovers the chance to rehabilitate Miguel's failing local businesses – enterprises left to Dalvon's inexperienced care. The flagging ventures are a badly wrapped gift from heaven, and if Hudson can turn them around, he might be able to leverage the experience to finish his MBA.
Then Miguel returns to Ibiza, and instead of finding a boy toy, he discovers Hudson has turned his cold villa into a warm, welcoming home. Miguel's path is clear: convince Hudson to lay down his defenses and let love in.
Product Link: Audible US | Audible UK
Reviewer: Gigi
Review: If you want fun, fantastical business adventure, stranded on a hot vacation paradise island, here you go. Not a ton of depth, very familiar characters, and a whirlwind of activity. Even when Hudson is left to pick up the broken businesses his brother left behind, make a ton of friends, and turn his boss's businesses into profitable ones, I can't see the torture in that. Hudson gets to turn his misadventure into college credit after all; I'd fantasize about that any day! 
The heat doesn't come until much later in the story, and it's a little wonky, this is the brother's ex after all…and speaking of which, turnabout is fair play right? 
The narrator is familiar to me as he reads one of my favorite series, so I've become accustomed to his lilting, questioning tone of voice at the end of every sentence. Once you get used to him, it all works well, it's a developed taste. His timing is good, and there are no hiccups. 
A fantasy island sort of story full of silly adventure and light on love.