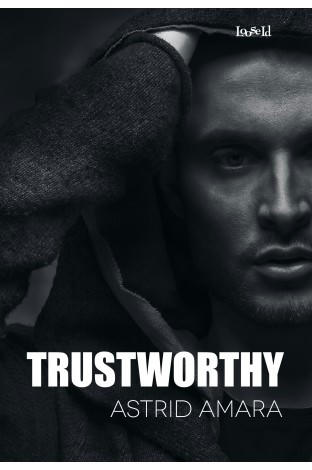 Title: Trustworthy
Series: Policy of Lies #2
Author: Astrid Amara
Genre: Science Fiction
Publisher: Loose ID (May 9, 2017)
Length: Novella (161 Pages)
Heat Level: Low
Heart Rating: ♥♥♥♥♥ 5 Hearts
Blurb: Ten years ago, lovers and best friends Ivo Toreli and Robert Mackenzie were separated by death.
But sometimes life gives you second chances. Life…and a lot of cybernetic enhancements.
Trust Agent 505 may not remember who he was before he worked security for Trust Insurance, but now his prisoner thinks he knows him. This revolutionary named "Mack," who has stolen one of Trust's prized possessions, seems to think Agent 505 is named "Ivo," someone from his past. Someone he once loved more than anyone on any of the inhabited worlds.
Ivo doesn't remember any of it, of course. But if he's going to get Trust's property back from the revolutionaries, he's going to have to play along.
And if playing along also means sleeping with a handsome, humorous, and slightly dangerous ex-soldier, all the better, right? 
ISBN: 978-1-68252-327-8
Product Link: http://www.loose-id.com/trustworthy.html
Reviewer: Lisa
Review:  I have never really been a fan of anything Sci-fi, but this was a pretty damn good book if I must say so.  I hadn't even taken a look at the blurb, so I had no clue what type of book I picked so imagine my surprise when I started reading it.  It is definitely futuristic and unique, a definite new type of story for me.  
Two young boys, orphaned at a young age find themselves together and bond in a way that many do not.  They grew up together, took care of each other and protected the other with fierceness.  Then they became lovers and decided to never be without the other.  Fighting for what they thought was right, Ivo was killed.  Ten years has gone past and Rob finds out that the man he loved, the man he watched die is in fact very much alive.
Ivo or Agent 505 had no memory of anything other then what he was.  Part man and part machine, but still human.  He has been killed many times but always brought back.  His reward is a drug that basically keeps him under the Trust's hand.  That is until a man who knows him, shows him a different side of himself… one that he, well your just going to have to read the book.
A very fascinating story and I will now have to go back and read the first book in this series.  It is a very entertaining tale and caught my attention from the very start.  This is more than just a fight for the world, but for each other and the love they once had.  I fell in love with the characters and that dog just made a hit with me. 
I can see myself reading this book more than once, way to go!  I would definitely recommend this book.