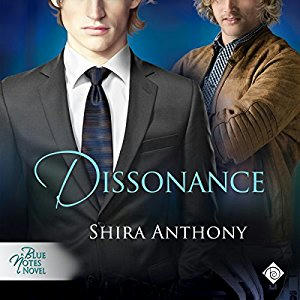 Title: Dissonance
Series: Blue Notes 07
Author: Shira Anthony
Genre: Contemporary
Narrator: John Solo
Length: 9 hrs 24 mins
Publisher: Dreamspinner Press (4th November 2016)
Heat Level: Moderate – Explicit
Heart Rating: ♥♥♥♥♥ 5 Hearts
Narration: ♥♥♥♥♥ 5 Hearts
Blurb: British noble Cameron Sherrington has hit rock bottom. The love of his life, opera sensation Aiden Lind, is marrying another man, and Cam knows it's his fault for pushing Aiden away. As if that's not enough, someone is trying to take away his family business, and the US authorities are pursuing him on charges of money laundering. Fearing for his safety and unable to return to London, Cam runs, but he's too broke to find a place to stay, and his fugitive's life doesn't even remotely resemble a Hollywood thriller.
Desperate and betrayed by the people he thought cared about him, Cam takes refuge in the subway station where Galen Rusk plays his trumpet for tips. Though Cam hears the beauty in Galen's music, it's Galen's firm hand on his shoulder that stops him from throwing everything away. Their unusual relationship takes a turn that surprises them both, and neither man is sure he wants the complication. Galen is fighting the ghosts of his past, and Cam has his own nightmares to face. When Cam's troubles threaten to tear them apart, Cam figures he had it coming – that it's all penance due for a life lived without honesty or love. But he never considered the possibility that he might not survive it.
Product Link: Audible US | Audible UK
Reviewer: Gigi
Review: I've always enjoyed this series for its depth of character, development of plot, and ability to pluck at my heart strings, and Dissonance delivers the same quality. At first I had a hard time warming up to Cam, as the author very well intends, and I couldn't put together the mystery of Galen's persona for the longest time. That actually thrilled me that I couldn't truly predict every move, and there was not cookie cutter though the premise is familiar. 
There are many instances of suicidal thoughts, attempts, and self hurt in this story as well as sexual abuse, so be warned. IT's not for the light hearted. 
There were plenty of moments where the author ripped my heart out, but left it carefully mended and hopeful for the future. The sexual content was disturbing in many places, but between Galen and Cam it was beautiful, sensual and slowly simmering. Don't despair; you'll get your HEA. 
The narrator did a wonderful job, the characters were defined, the story flowed well, and my imagination combined with his voice put me right in the action, as any good audiobook should. I recommend Dissonance as well as the other top quality well written books in this series!