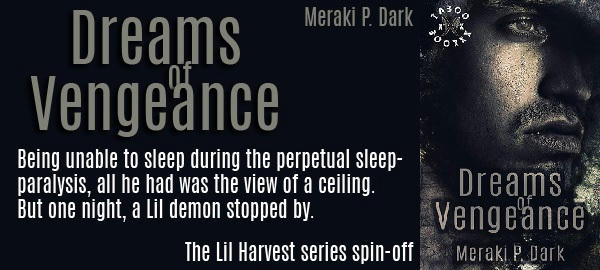 Hi guys! We have Meraki P. Dark stopping by with the cover for his upcoming release Dreams of Vengeance, check out the beautiful cover and enjoy the blurb! ❤️ ~Pixie~
Dreams of Vengeance
(Hecho & Quizel novelettes 01)
by
Meraki P. Dark
The doctors were optimistic that it was a temporary adverse reaction. For the first three months, his fiancé stuck around. Then, over the next three, his parents began outsourcing the care for him. After ten months, no one could bear to see him lie there, staring into the ceiling and crying bitter tears at a promising career in sports commentating going down the drain. Being unable to sleep during the perpetual sleep-paralysis, all he had was the view of a ceiling.
But one night, a Lil demon stopped by.
Release date: 15th November 2019
.•.•.**❣️ Coming soon ❣️**.•.•.

About Meraki!
Meraki P. Lyhne/Meraki P. Dark is a Danish author who mainly writes contemporary paranormal MM and MMM, some with a HEA, some with a HFN, and some with white-knuckling cliffhangers. The pseudonym Meraki P. Dark takes the brave readers into the dark side of the genres.