Hiya guys, we have K.A. Merikan stopping by today with their new release GUNS N' BOYS: Bloodbath, we have a great excerpt and a brilliant giveaway, so check out the post and click that giveaway link! <3 ~Pixie~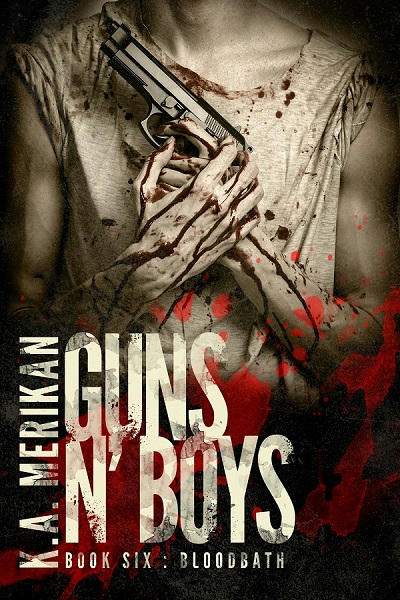 Bloodbath
by
K.A. Merikan
"I don't even know who I am anymore."
"All you need to know is that you're mine."
Seth would follow Domenico to the depths of hell. He promised to always be at Domenico's side. But hell becomes all too real when they infiltrate the world of Toro – a notoriously security-obsessed arms dealer, who has eyes and ears everywhere.
Seth becomes unable to steal even a moment of intimacy with Domenico, and the tension grinds them down each day. Beyond the deceptive paradise of Toro's villa, violence is an everyday occurrence, and the swimming pool could just as well be filled with blood. To survive, Seth has to become the man Domenico needs him to be, but in the process, he might lose who he truly is.
With Seth trained up, and Mark as backup, victory is so close Domenico can taste it. They just need to prove themselves to Toro as valuable assets. With each day though, Seth seems to be drifting away from Domenico, hidden behind a mask of cruelty and indifference. It is exactly what Domenico asked of him, so why is it so difficult to see Seth become his mirror image?
POSSIBLE SPOILERS:
Themes: mafia, cartel, assassin, organized crime, homophobia, human trafficking, undercover, family ties