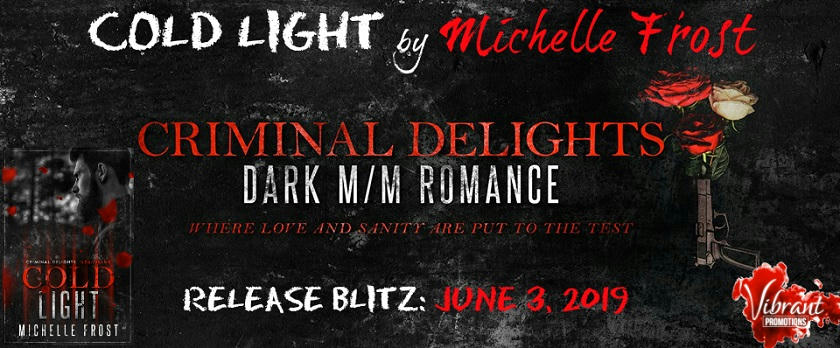 Hi peeps! We have Michelle Frost popping in today with her new release Cold Light, we have a great excerpt and a brilliant giveaway, so check out the post and enter the giveaway! ❤ ~Pixie~
Cold Light
(Criminal Delights: Assassins 14)
by
Michelle Frost
Being an assassin wasn't something Lexington Campbell ever envisioned for himself, but after spending eight years doing just that, he's prepared to take his place at the table of his father's motorcycle club, The Iron Heretics.
Arden spends his nights dancing on stage at Spritz, one of St. Louis's hottest night clubs, and waiting for Lex to pass back through town. After being orphaned young, he fears letting himself get too attached to the distant, bearded Lex, even after three years of inviting the man into his bed.
When Lex finds himself with a price on his head, he unknowingly pulls Arden into the darkness with him. When things aren't what they seem, and enemies abound, will they find themselves still standing together in the cold light of day?
Warnings: attempted sexual assault, blood, graphic violence, morally dubious characters