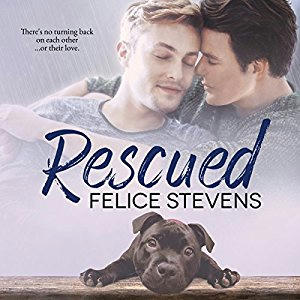 Title: Rescued
Series: Rescued Hearts 01
Author: Felice Stevens
Genre: Contemporary
Narrator: Charlie David
Length: 9 hrs 1 min
Publisher: Felice Stevens (14th March 2017)
Heat Level: Moderate – Explicit
Heart Rating: ♥♥♥♥ 4 Hearts
Narration: ♥♥♥♥♥ 5 Hearts
Blurb: Ryder Daniels is all too familiar with rejection. His parents cut off contact because he's gay and his boyfriend left him, choosing drugs over love. Aside from his rescued pit bull, his only joy is hanging out with his younger brother. Then his mother does the unthinkable and forbids them from seeing each other, leaving Ryder devastated and alone. His friends urge him to date, but Ryder would rather throw himself into working at the dog rescue and figuring out a way to see his brother again.
When Jason Mallory's girlfriend gives him an ultimatum to get married, he shocks everyone by breaking up with her instead. He believes he's too busy for a relationship now that the construction company he started with his brother is taking off. When he discovers a group of abandoned pit bulls and calls the local dog rescue group to pick them up, an uncomfortable encounter with Ryder causes Jason to question feelings he's hidden deep inside for years.
Jason and Ryder build a friendship – until an unexpected kiss sparks the attraction they've been fighting. Jason gives Ryder unconditional love and helps him reconnect with his brother, while Ryder shows Jason the passion he's always missed in relationships. Together, they must battle through their family differences and ugly prejudices. Only then can they prove that once you find the right person to love, there's no turning back.
Product Link: Audible US | Audible UK
Reviewer: Gigi
Review: A warm and fuzzy love story with very hot sexual content! Two great Characters, Ryder, who has paid the price for who he is, though afraid to put himself out there socially and romantically, his heart is wrapped around his animal rescue. Jason, afraid to step out of the closet, but bold and brash in every other aspect of his life, has met his match in Ryder. These two have great chemistry, the question is, can Ryder risk his heart for someone who doesn't quite understand all he's lost? I love Jason's devious plan to find a way for Ryder to see more of his brother, the mother is a total bitch, and the other characters just add to the fun though sometimes unrealistic balance of the plot.  
Plenty of interesting parallels here, Ryder is very much like an abused stray dog wary of humans who are there only to rescue it. Like the stray, Ryder's heart has been abused, he's been neglected and left behind by his family, and he's very wary of trusting the love and relationship Jason is offering. 
Charlie David always does a great job with narration, though some of the male voices get a little too close and create a teeny amount of confusion. 
This story is excellent for animal lovers, those looking for a super sweet love story and HEA, with heaps of steamy topping!