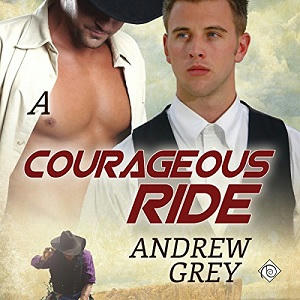 Title: A Courageous Ride
Series: The Bullriders 03
Author: Andrew Grey
Narrator: John Solo
Genre: Contemporary, Cowboys
Length: 8 hrs, 26 mins
Publisher: Dreamspinner Press (17th July 2018)
Heat Level: Moderate
Heart Rating: 💖💖💖💖💖 4.5 Hearts
Blurb: Aspiring orchestra conductor Marshall is exhausted after months of auditions without a single job offer. Marshall's friend Terry recommends a change of scenery and points Marshall in the direction of a dude ranch run by former bull rider Indigo Santana. Marshall is understandably skeptical, but his friend is convincing, and Marshall needs a break, so he agrees to go.
Indigo captures Marshall's attention but leaves him confused. Indigo's confidence is shot after an injury ended his rodeo career, and he walks with a slight limp. He hasn't been anywhere near a bull since he was hurt, and he's not the most accommodating host. After all, the only reason he keeps guests is because his family ranch is all but bankrupt.
Marshall's attraction doesn't go unanswered, which leaves him with a huge dilemma. He's torn between the possibility of love, something he's searched for all his life, and the career he's worked toward for as long as he can remember, which is miles away. From his side of the fence, Indigo doesn't see how the ranch could ever be enough.
Product Link: Audible US | Audible UK | Amazon US | Amazon UK
Reviewer: Prime
Review: A Courageous Ride is the third book in Andrew Grey's cowboy/western series, The Bullriders. Any fans of cowboy romances will love this book. I recommend reading books 1 and 2 if you haven't already because there are a few well developed characters that pop up from the previous books. I love this series for the simplicity of the story, leaving plenty of room for the characters to develop and fall in love in a way that seems to be more organic than quickly falling into bed and bam, they're in love. Although, in saying that, the men in these stories also have enough baggage that there isn't a dull moment.
I think, though, that this book is my favorite in the series, I think because there seems to be a lot more at stake in this one than the previous books. Although the over arching theme of the series continues to be moving on and learning how to let love in. it's really a beautiful thing.
This story takes place on a different ranch than books 1 and 2, a dude ranch that also happens to be a working ranch that is run by Indigo Santana. The Princess Bride and Santana went through my head, especially at the point where Indigo himself talks about the character Inigo Montoya in The Princess Bride.
Indigo is an ex rodeo rider who has was forced to retire after he was severely injured. Now he works his guts out trying to keep his family ranch above water, which is why he has set up the dude ranch part of his business. He is your typical gruff cowboy with a heart of gold, but unlike the previous books, he is a cowboy who isn't exactly in the closet, but he certainly doesn't advertise himself either. However, he hides his goodness because his confidence took a real blow when he got the career ending injury, so he likes to act like a grumpy bear and he hasn't even been near a bull since the accident. In fact, if he wants his guests to meet a bull riding champion, he invites his friend and neighbor, Dante Rivers, over (yep, that's the guy from book one).
Marshall is a mentally and physically exhausted when we first meet him at the start of the book. He has been going to countless auditions to become an orchestral conductor. However, he is not having much luck. So of course he isn't at his best, and it is his friend Terry that convinces Marshall to go to a new dude ranch he knows about instead of going back to his difficult parents in New York. Marshall goes to the ranch and quickly finds himself feeling better and within a short time he is starts to be able to access his career options carefully. Even though his controlling mother finds a way to disrupt him. In between all that, he finds a deep connection with Indigo, which brings in a whole lot more complications.
These guys have a long and winding road ahead of them but I particularly found it very easy to relate to Marshall. Although Indigo is a pretty damn awesome character who I only just wanted to give a warm hug!
As usual John Solo has done a fantastic narration, giving each character their own individual voice, which conveys the emotions and assaulting the ear with all the feels you could possibly want. I love to hear Solo's narration on any book I get on audio and I am rarely disappointed.