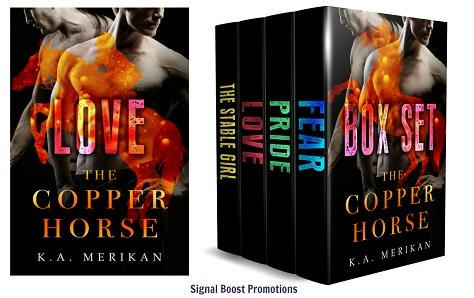 Hi guys, we have K.A. Merika popping in today with their new releases The Copper Horse: Love and The Copper Horse Box Set, K.A. are celebrating with a fantastic giveaway so check out the post and click that giveaway link <3 ~Pixie~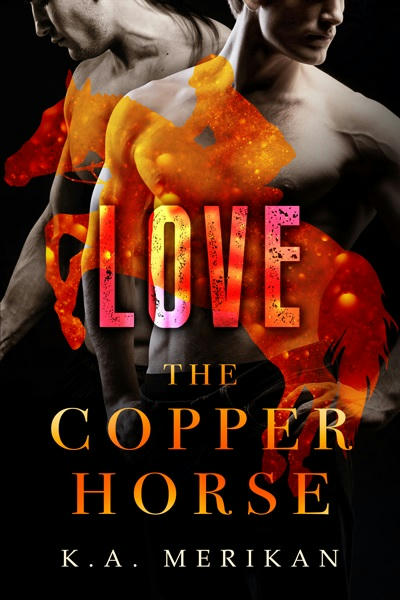 The Copper Horse: Love
by
K.A. Merikan
London
1907, twenty years into the zombie plague
Just as Reuben finally settles into the role of Copper, his master's proud stallion, his life gets turned upside down by a revolution that has been long brewing in London. But the men who come for Erik at his home bring much more than havoc. They uncover lies that Erik has fed Reuben, and the truth creates a rift between them that might be impossible to cross. 
Even if Reuben still wanted to be Erik's pony, is it possible for them to be together if his master loses all power and property? With no harness to hold him, no bit to stop him from speaking, can Reuben still be what Erik wants? Does he have anything to offer as a man?
The relationship they have established gets shaken to its core, and on the run from Erik's enemies, they will both have to find out if the bond they share will survive, or if it will break.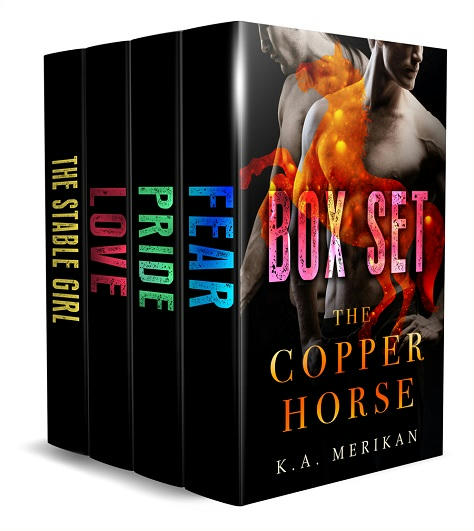 The Copper Horse Boxset
Comprising of The Copper Horse: Fear, The Copper Horse: Pride, The Copper Horse: Love, Jack's Punishment (Side Story) and The Stable Girl (an m/f story set in The Copper Horse world)
About K.A.
K.A. Merikan is the pen name for Kat and Agnes Merikan, a team of writers, who are taken for sisters with surprising regularity. Kat's the mean sergeant and survival specialist of the duo, never hesitating to kick Agnes's ass when she's slacking off. Her memory works like an easy-access catalogue, which allows her to keep up with both book details and social media. Also works as the emergency GPS. Agnes is the Merikan nitpicker, usually found busy with formatting and research. Her attention tends to be scattered, and despite pushing thirty, she needs to apply makeup to buy alcohol. Self-proclaimed queen of the roads.
They love the weird and wonderful, stepping out of the box, and bending stereotypes both in life and books. When you pick up a Merikan book, there's one thing you can be sure of – it will be full of surprises.
Website | Twitter | Facebook | Pinterest
Giveaway!
Win an ebook copy of The Copper Horse: Fear!
(Just click the link below)
(Ends 28th November 2016)