Hi guys, we have Alec Nortan stopping by today with the tour for his new release The Gaia Protocol, we have brilliant Q&A with Alec, we have a great excerpt and a fantastic giveaway, so check out the post and click that giveaway link! <3 ~Pixie~
The Gaia Protocol
by
Alec Nortan
Long ago, the Gods came back to earth and banished all science from Earth. When Prome finds an amulet in the ruins of an ancient city, he doesn't expect it to take him and his friend Malia on a quest to discover the long forgotten secret of the Technologists, to meet someone who awakens feelings of love in him, nor to defy the Gods themselves.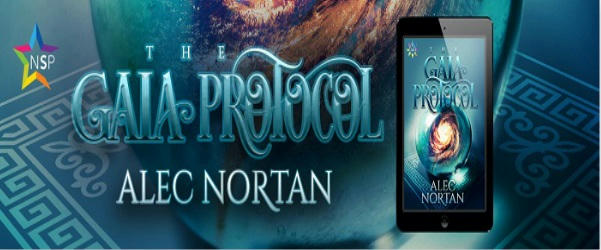 Q & A with Alec Nortan!
When did you write your first story and what was the inspiration for it?
My first story was a short one that has never been published. It came from an English test I had to pass when I was seventeen, completely forgotten and lost, and completely re-written. I sent it to a few persons and got good feed-back. It gave me the idea that maybe I could write longer stories.
Do you have a writing schedule or do you just write when you can find the time?
I have absolutely no schedule. I can spend a whole day writing, and the next week without writing a word. Inspiration strikes at the strangest moments, though. It can be at night, or when I'm having a pleasant diner with friends for instance. It can be just a fleeting idea to get my characters into or out of trouble, an idea for a brand new story, or sometimes a whole scene, with all the sentences flowing freely. When this happens, I try to memorize the word or idea that triggered this burst of inspiration as well as the way I thought I could use it. I write everything down as soon as I can, and come back to them the next day when I have time for it. Alas my memory isn't that good and it often happens that I lose some elements (especially when it's a scene and I can't write everything down immediately).
Briefly describe the writing process. Do you create an outline first?  Do you seek out inspirational pictures, videos or music? Do you just let the words flow and then go back and try and make some sense out it?
When I began writing the Gaia Protocol, I wanted to write a dystopian story. I got the idea of a world in which the gods had come back. It took me a while to get a raw idea of a story and let it grow until I could get myself to write it down.
The first problem I met was: when do I start my story? When the Gods come back? But then there would be a huge gap until Prome finds his amulet. Write it as a preface, taking the risk that it becomes info-dump? I wrote several first scenes until I wrote one I was happy with. From then on, I just let my characters live their lives. Some subplots I had thought of were abandoned while others appeared.
Where did the desire to write M/M romance come from? (If applicable)
When I discovered gay stories (not that long ago), the only available stories I had were very short novels with plots that could mostly be resumed by "they meet, blablabla, impossible love, more blablabla not necessarily compatible with first blablabla, sexe scene, bla, end. Not very enticing, though I sometimes found some good ideas I regretted weren't more developed.
I began thinking "okay, this part/plot/… is good, but it should have turned out like this or like that."
As for the non-gay books I read, I often thought "great story, but why does the girl always get the cute guy? Why not the other cute guy?"
I decided to try writing my own stories. Ironically, that's also what made me discover great gay-stories authors (one of my fav is Tal Bauer), but too late. Writing had already become part of my life.
How much research do you do when writing a story and what are the best sources you've found for giving an authentic voice to your characters?
It depends on the story, but not much although some stories need more research than others. I usually start with things I know for the main storyline. I do some research for the details. For instance, for the Gaia Protocol, I already knew most of what I needed as I was a huge fan of Greek mythology when I was young. What I had to research were a few very specific gods like Amphitrite's children (sorry Benthesikyme, I'll never be able to remember your name, let alone the spelling…), or of specific words like agoge.
What's harder, naming your characters, creating the title for your book or the cover design process?
I have a great editor who takes care of the cover for me, and I'm so glad for that, because cover design isn't my thing. Even when I have ideas for it, I don't have the photoshop skills to implement them.
I used to have problems finding titles until I discovered that if I forget about that part and keep on writing the story, a title will eventually emerge as if by itself. For instance, as I was working on the Gaia Protocol, but before I found that title, I tried to name my project. I had the major lines of the story, and I tried several titles. I found "The Gods' Upheaval", and several even worse titles. I stuck with one I didn't like (who would like such a title, honestly?) and kept writing. Much later on, I wrote a scene in which Prome and Malia discover a few words appearing above a box. I had to find the words. I knew what was behind them. The name Gaia Protocol became an evidence, and the title of the story at the same time.
For the next installment, I'm sticking with "The Gaia Protocol 2" for now. No need to spend too much time working on a title that will reveal itself later on its own…
So this leaves me names. And believe me, if I had the guy who invented names in front of me, I'd strangle him on the spot!
When I need to find a regular name, I google the most common names. Even with a list of about fifty names, I usually can't find the good one. Too close to that of another character, or already used in another story, or whatever reason of the million existing ones that prevents me from using that name… With the Gaia protocol, I even had to find names that fit the world my characters live in. Regular names weren't an option. The first one to find was my male main character. After changing it a dozen times, I eventually found one in the Greek mythology and shortened it to modernize it. And it worked (either that or I got tired of looking for a name and stuck to it). For the other characters, I found a list of ancient Greek names and modified them slightly. Even so, I spend quite some time on each of them…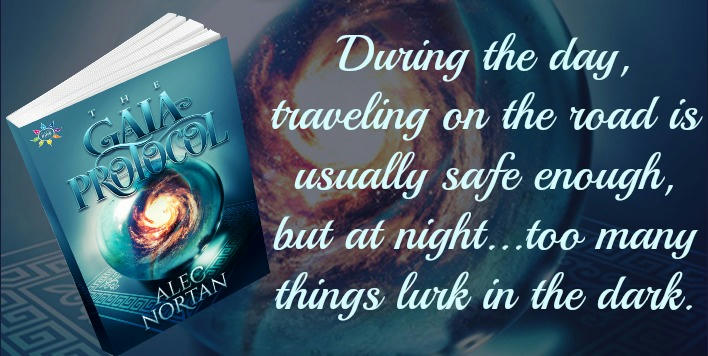 Excerpt
The Gaia Protocol, Alec Nortan © 2017, All Rights Reserved
I'm crouching behind the wall of a half-collapsed building. I usually don't taunt the Fates like this, but my hiding place seems safer than the arrows of my pursuers.
I hear footsteps outside. I take a peek, just long enough to see a dozen hoplites marching down the street, their bows at the ready. They're scanning, surrounding, searching. As they come nearer, my heart beats faster. I flatten myself on the ground. If I could sink into it, I would, but the only thing sinking is a painfully sharp stone into my ribs.
The Goddess Tyche has blessed me with her luck: I hear them move away at a brisk pace.
When I'm sure they're far enough away, I sit, propping myself against the wall in a more comfortable position. I massage my ribs to ease the pain. Only then do I muster the courage to look at my leg. It's still shuddering from the electric arrow, but luckily, the arrow missed, only grazing the flesh. Had the arrow really hit me, I would already be dead. I know how it works. I've seen it before.
A few years ago, during a search, a Technologist hiding in our village tried to run away. The hoplite shot him in the arm. The man jerked but kept running. He snatched the arrow out of his limp arm. The hoplite then shot several arrows as fast as he could without even aiming. The arrows flew, veering toward the Technologist midflight. None missed.
Though the arrow missed me, it still hurts like hell, from both the wound and the aftereffects of the jolt. I take off my neckerchief and improvise a bandage to stop the bleeding.
Why did the legion attack me? Scavenging in the old city isn't forbidden.
I used to come here as a child and climb inside the deserted skyscrapers, looking for objects to trade on the market. Today, I've found some kind of amulet. It's a small, flat, metallic rectangle with geometric signs on it. It's probably not worth a bowl of soup, but it looks nice. I've put a leather string through a small hole and kept it around my neck to offer to Malia. She'll like it.
I look at the sky. The sun is already halfway down the horizon. I have to move if I want to make it home before nightfall. My leg doesn't feel much better. I take a tentative step and wince at the pain. I won't be able to run, but I can walk.
Walking back should usually take me a couple of hours, but not today. I have to move carefully between the buildings, hiding at suspect sounds, checking for movement in every direction before crossing a road. Two hours walking only brings me to the outskirts of what used to be a great city. Here, the last remnants of houses are swallowed by the first trees of the forest.
"Fuck!" My outburst sends a few scared birds flying away. It has taken me far too long. The sun is already sinking behind the highest ruins. Now I really have to hurry, despite my leg.
I scrutinize the nearby trees. I don't see anything moving. I walk to them and find a broken bough to use as a crutch. I come back swiftly to the safety of the road.
During the day, traveling on the road is usually safe enough. But the forest… Only parties of adults enter it. Sometimes, one goes in alone. And sometimes, they don't come back.
During the night, forest or road, no one goes out. Too many things lurk in the dark.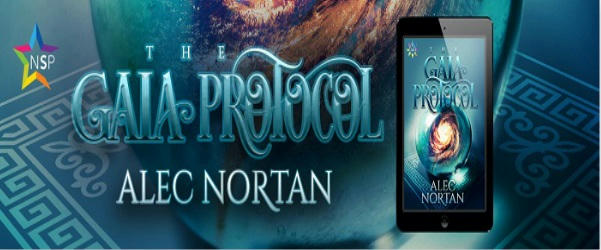 About Alec
Alec Nortan is a French social services worker. Though he learned English at school, he chooses this language to write in. His works are gay-related fictions, varying from young adult, science fiction or fantasy adventure, to romance.
Facebook | Goodreads | Email: alecnortan@gmail.com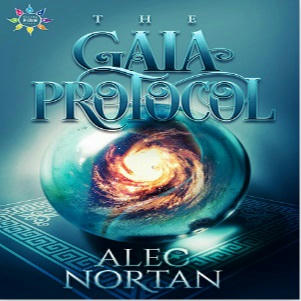 Giveaway!
One lucky winner will receive an ebook of their choice from NineStar Press!
(Just click the link below)
(Ends 10th February 2017)

Check out the other blogs on the blog tour
2/6 – Stories That Make You Smile
2/6 – MM Good Book Reviews
2/7 – Books,Dreams,Life
2/8 – Fangirl Moments and My Two Cents
2/8 – The Novel Approach
2/9 – Prism Book Alliance
2/9 – Sharing Links and Wisdom
2/10 – The Kimi-chan Experience