Hiya peeps! We have Raine O'Tierney popping in today with her upcoming release The Twelve Days of Hipster, we have a brilliant guest post from Raine, a great excerpt and a fantastic giveaway, so guys check out the post and click that giveaway link <3 ~Pixie~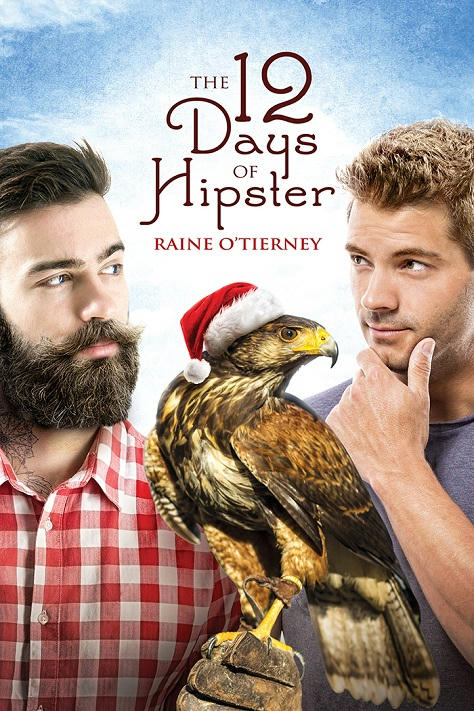 The Twelve Days of Hipster
by
Raine O'Tierney
The 12 Days of Hipster
(Sequel to Bowl Full of Cherries)
Last Christmas, Tyler Lang accidentally accepted David Griffith's invitation for dinner. Yes, it was an accident. See, hipster (don't call him that!) Tyler doesn't date guys, and even if he did, he certainly doesn't date jocks. A rude and hasty exit right when the date was getting good left things awkward between them.
David Griffith isn't really a jock. Well, he's a former athlete who loves sports, but "jock" has a certain connotation that doesn't quite fit the intelligent, hardworking store owner. A jock wouldn't have given Tyler Lang the time of day. But even after that little, ahem, stunt with the fire escape, David can't stop thinking about the hipster a year later. Which would be fine if fate didn't keep butting her nose into their business, making it impossible for the jock and the hipster to avoid each other this Christmas.
A hilarious holiday romp, set to the music of the Winter Sounds.
 Release date: 19th December 2016

Raine O'Tierney For the Love of Hipsters
I straight up love me some hipsters.
No, really, I do.
I think we all have at least a tiny bit of a hipster side– some of us more than others– and I see "hipsterism" as a sliding scale– from the occasional infinity scarf-wearing type to full-on plaid.
For instance, my best friend has exactly one hipsterish thing about her. No media past 1960. Basically her loves include radio dramas and old movies. She doesn't have cable, or even an antenna to get the local channels. Climb in her car and you'll probably hear The Shadow radio drama playing. She doesn't think she's better than you, she simply doesn't have time for today's media.
My brother, on the other hand, is a full-on Tyler.
Vinyl, Toms, bands you've never heard of, movies you've never watched and a whole slew of reasons why the things he loves are better than the things you love. He will tell you loudly and loftily why he is the king of the hipsters, all lesser hipsters bow before him. All of this without being (too) drunk on PBR.
My goal in writing The 12 Days of Hipster wasn't to mock our elitist friends… Having passions is what makes us all great! But you've got to admit, there's some all-in-good-fun humor that comes ready-made in this group.
Tyler Lang doesn't know how to laugh at himself. At all. He hates the term hipster and rails against it constantly, instead of embracing who he is– enjoying himself and the crazy things he does. (Stopping on the side of the road to get his picture taken with a peregrine falcon? Come on, Ty!)
It takes his encounters with a jock of all people– David Griffith– to make Tyler understand that being himself is way more important than convincing people he's not full-on plaid.
What's the most hipster thing about YOU?
With Kindness and Mustaches!
Raine O'Tierney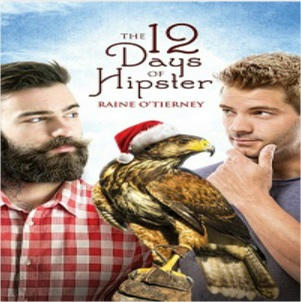 Excerpt
Okay, fine. If he couldn't get out of this with direct and sound logic, he would try the irrational. The completely, totally—did he say completely?—irrational. Tyler tightened his grip on David's hand, leaned forward, and kissed him. But before a full second had passed, David burst out laughing against Tyler's lips.
Tyler yanked back, heat suffusing his face.
"What?"
"That was the sourest prekiss expression I've ever seen."
"That's it, I'm leaving."
"Tyler, you don't have to go."
"No sparks. Only laughter. Must leave."
"No sparks because you looked like you were in physical pain and made me laugh. Why don't you be a little more romantic about it?"
"Because I…." Don't know what in the hell I'm doing. It was probably the first time in his life he really could say that. He'd learned things before. There had been a time when he hadn't known how to knit, when he hadn't known how to make gourmet chocolates, when he hadn't known how to use a soldering iron—but those were just learning opportunities. But with this? He felt like he was standing out naked on the corner with only mistletoe to cover his bits.
"More like this."
The second kiss was what Tyler would have called sweet if the word had been in his vocabulary. David's lips were warm, soft, giving, and for a moment the kiss lingered on that edge of innocent, like a snowflake dancing through the sky. Then the world tipped and Tyler's hands were in David's hair and David was drawing him closer and, motherfuckinggod, they were kissing. Hard, searching lips, taking and giving, and it took him way too long to realize what he was doing. In fact, he might not have ever realized it if they hadn't needed to breathe like humans do. It took a long moment for rational thought to come back to Tyler.

About Raine
Called "Queen of the Sweetness" (well, two or three people said it anyway!) Raine O'Tierney loves writing sweet stories about first loves, first times, fidelity, forever-endings and…friskiness?
Raine in Kansas City with her husband, fellow Dreamspinner Press author, Siôn O'Tierney. When she's not writing, she's either asleep, or fighting the good fight for intellectual freedom at her library day job. Raine believes the best thing we can do in life is be kind to one another, and she enjoys encouraging fellow writers!
Raine changes sub-genres to suit her mood and believes all good stories end sweetly. Contact her if you're interested in talking about point-and-click adventure games or about which dachshunds are the best kinds of dachshunds!
 Website | Blog | Facebook | Twitter | Goodreads
Giveaway!
Win a U.S. Audible Code for Bowl Full of Cherries!
3 Copies of Bowl Full of Cherries (eBook)!
(Just click the link below)
(Ends 28th December 2016)

Blog Tour
December 13 – MM Good Book Reviews
December 19 – Two Chicks Obsessed with Books and Eye Candy
December 20 – Love Bytes
December 21 – Open Skye Book Reviews
December 22 – Boy Meets Boy
December 23 – My Fiction Nook
December 27 – Scattered Thoughts and Rogue Words
December 28 – Dreamspinner Press Blog