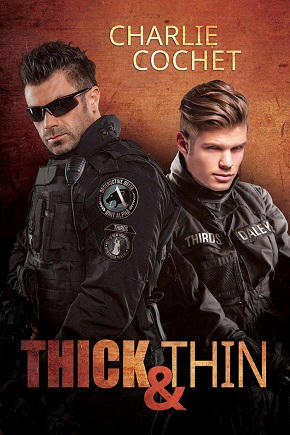 Title: Thick & Thin
Series: THIRDS #8
Author: Charlie Cochet 
Genre: Urban Fantasy, Paranormal
Length: Novella (95 Pages)
Publisher: Dreamspinner Press (February 1, 2017)
Heat Level: Low
Heart Rating: ♥♥♥♥♥ 5 Hearts
Blurb: In a matter of days, Dex has been kidnapped, tortured, killed, revived, become half Therian, offered the chance to become a spy, and accepted a proposal to marry his jaguar Therian boyfriend, Sloane Brodie. It's been a lot to take in, and although Dex is still trying to wrap his head around everything that's happened, he knows he has to move forward.
After the events of Smoke & Mirrors, Dex and Sloane find themselves in one of the most frightening situations of all: revealing the truth to their Destructive Delta family. When the dust settles, nothing will ever be the same, and it's up to Dex to prove that in the face of change, the one thing that will always remain the same is family. 
ISBN: 978-1-63533-389-3
Product Link: https://www.dreamspinnerpress.com/books/thick-thin-by-charlie-cochet-8114-b
Reviewer: Lisa
Review: To enjoy the overall story arc and crossover characters, I would recommend reading the series in sequential order.
I have had the pleasure of reading many, many books over my years and have come to cherish quite a bit of them.  When I came across Charlie's books, I started with the audible books first.  There was just something about listening to them, that I knew I had to grab the books and start reading them.  Now there are times that I feel like I have missed something big, but it never bothered me with these stories.
The characters are fully developed and let's just say that if they were here I would definitely jump them.  Now I have my favorites but I will let you figure that out.  The world that this author has created is unique and very different then many I have read.  For that I appreciate something fresh to read.  Most of the time I hate stories that have lasted past three books but this one has all of our sexy characters showing up and telling their story so to speak.  
Dex had been kidnapped, killed, revived, visited his families grave and his adopted dad shot in the chest.  All this happened within two days, and Dex is fed up with it.  He doesn't trust Sparks and knows she is up to something, guess we will have to wait and see what it is.  He is also now part Therian or should I say half and things are starting to show for it.  Oh and the big news, well guess you are going to have to read the book for that.  
This story is action packed, full of excitement and suspense, and let's not forget our men and women are in danger once more.  I enjoyed reading this and cannot wait to read more about our sexy members of Destructive Delta.  Way to go Charlie, this book was a hit.  I would definitely recommend this series.