Hi guys! We have J.R. Hart stopping by today with her new release This Christmas, we have a great excerpt and a fantastic $10 NineStar GC giveaway so check out the post and enter the giveaway! ❤️ ~Pixie~
This Christmas
J.R. Hart
Alex Ross can't catch a break when it comes to Christmastime. With a long history of bad holiday experiences—like getting rejected under the mistletoe or playing referee to his mother's divorce—he's just trying to survive it.
New in town and a stranger to everyone, he plans on ignoring the holiday altogether. That would be easier if his ridiculously cheerful new neighbor would cool it on the Christmas hype. Nicholas is annoying and loud. Worst of all, he's also impossibly attractive and nice to everyone. It's getting harder for Alex to deny his interest, especially when Nicholas leaves Christmas cookies at his door and wages a snowball fight against him on the coldest day of the year.
Can Alex open up to him and get into the holiday spirit before he endures another ruined Christmas?

Excerpt!
This Christmas, J. R. Hart © 2019, All Rights Reserved
Chapter One
Christmas Spirit
Peppermint. Everywhere Alex looked, on every shelf, peppermint surrounded him. Before Thanksgiving had ended, someone sneezed red-and-white stripes throughout the grocery store. Most of the year, Alex was indifferent to peppermint. He didn't have a personal grudge against the flavor, not really. At Christmas, however, indifference became loathing.
What was the point of basing an entire season around one specific flavor profile? He didn't get the excitement of mint, the mad rush to stock up as if the ingredient were scarce. Calculating an extra ten minutes into his routine to account for peppermint mochas being all the rage and the long lines accompanying the seasonal drink? Not particularly enjoyable. Personally, Alex preferred peppermint in the summertime, stirred into a glass of lemonade. In the current season, chamomile tea was a far better option, particularly in Omaha, which may as well have been a frozen wasteland. As he loaded the chamomile variety into his cart, he looked at the peppermint tea beside the others on the shelf again. How many people buy that thinking this is the only time it's available? It wasn't a limited holiday tea. Do people really not know this? Peppermint tea was right there, on the shelf, year-round. But somehow, no one touched the tea in the summertime.
Alex found it a little scary how some crafty marketing on the part of a few national giants—a few food brands—could push peppermint to the forefront of everyone's minds, convincing them the one flavor was a requirement for a good Christmas. Marketing alone could make one flavor of tea, available year-round, fly off the shelves during the right time of year. "Madness."
While he could deal with the fascination—darn near obsession—with peppermint products surrounding him in the aisles, he couldn't stand the chaos and overcrowding Christmas caused. He hadn't realized he'd been standing in front of the tea for as long as he had until a woman bumped him out of the way—no "excuse me" or anything—to reach the tea. He watched her snatch up several boxes of the very same peppermint green tea he'd rolled his eyes over. He wanted to be home badly, instead of at the store.
"You know they sell that stuff all year?" Alex asked. Stupid question.
She replied with a glare, then added two more boxes to her cart before wheeling away.
"Okay, then."
Comfort food. Alex stalked away in search of comfort food. Not comfort food in the way most people would define it, but rather the food he personally found most comforting. Starting with the obvious item—the largest jar of peanut butter the store had to offer. He wondered how offended the cashier would be if he grabbed a pack of plastic spoons and tore into the jar now. He needed comfort. Moving to a new city, right before the holidays? Yeah. He needed peanut butter. Bread wasn't important. His preference was to eat the substance straight out of the jar, where the creamy—never crunchy—mass could squish in and fill the emotional void left behind from the tension of shopping at Christmastime, the internal stress from packed aisles crowding in on him, overwhelming him. He scuffled his feet along the floor, head low, set on trying to avoid eye contact with any other shoppers.
Alex wasn't in the mood to conjure the polite, Christmassy grin he was forced to give the other shoppers. The store piped in annoyingly saccharine, cheerful Christmas tunes, and the music was starting to give him a headache. I hate Christmas. He hadn't always, but right now, he couldn't bring himself to like the holiday. He attempted to elbow his way around a cookie display with shoppers crowded around. When he couldn't manage to get through the crowd, he maneuvered between, reaching an arm in under someone's elbow and above another shopper's wrist. He grabbed two boxes, tossing them unceremoniously into his cart.
Too late to put the cookies back, he noticed the words "candy cane," printed on the label. With the crowd, there was no way he could reach in and put the packages back. What about the season necessitated peppermint added to the cream-filled center of a sandwich cookie? He didn't understand the need there. "What's wrong with plain Oreos?" No one heard his question. Which was fine—he hadn't wanted an answer. He should have ordered his groceries online, he realized in hindsight. But, he was here now. Leaving the store empty-handed didn't make sense.
Saccharine tunes came through the speakers, crooning classics surrounding shoppers in the store. "On the eleventh day of Christmas, my true love gave to me…" From the next aisle, he could hear a voice singing along. The stranger didn't bother to hum or sing along quietly as most other shoppers did. Instead, he made his presence known. "Eleven pipers piping." His voice was booming and excited. "Ten lords a-leaping!" Whoever he was, he was getting into the music, holiday cheer annoying Alex from an aisle over. As Alex grabbed a box of cereal off the shelf, he caught a glimpse of a garish Christmas sweater, a peek of beard, and lips moving along to the song. Of course. He was desperate to get out of the store. The sooner he finished shopping, the sooner he could leave the festive hellhole and take a nap. His mind flitted to the booze aisle. Alex considered alcohol to be a decent enough solution for getting through the holiday season. Unfamiliar with the store's layout, he wanted to find where he needed to go so scanned above him for a sign. He didn't see it. Instead, he turned and saw a lone box of peppermint bark on an endcap. He debated grabbing some.
If the candy was any good, it might make up for the peppermint overload the season itself had. Besides, it was the last box. The fear of missing out overwhelmed him. Peppermint wasn't all bad, even at Christmas. He reached his hand out to grasp the box as a large hand wrapped around the other side.
"Oh. Oh gosh." A man, the one who had been singing, judging by his festive, candy-cane-striped sweater matching the one Alex had seen through the aisle divider, looked at him. "You can have it," he said, but he didn't let go of the box. He was offering with the hope Alex would decline and let him have the box. Alex could barely stifle a groan as he looked up at him. The guy looked a little too into Christmas in the sweater, and his obnoxious attire was a lot to take in.
Alex wasn't short. He rarely had to look up at anyone. But this festive giant towered over him, so he let go. "I don't even like peppermint bark," Alex said. "Take it." The last thing he wanted was to get on this guy's Grinchy side over a box of candy he didn't actually want.
"What?" The man in front of him stared, aghast, mouth open, jaw dropped in an exaggerated way Alex had only ever seen in movies, as if Alex had somehow personally attacked him with the statement. "You're not a fan? It's a holiday staple, man!"
Alex resisted any and all temptation to tell him, "I'm not your man." He hated when people said things like that, so overly friendly, as if they knew each other, but he bit his tongue. Instead, he tried to hide his basket behind him, remembering it was full of peppermint cookies, not that he'd wanted them either. He worried the man had caught an eyeful, but then again, did he really care? He wasn't on trial here! Apparently, what was on trial was whether or not he liked peppermint bark. Christmas and everything related to the holiday was on his last nerve; that was certain.
"No," Alex said. "I am not a fan of peppermint bark. All it is is mint and chocolate. Go get a box of chocolate mints in the candy aisle—exact same thing, but the stuff sits there year-round, and nobody's trying to convince you you'll have the worst Christmas ever if you don't have it."
"Uh…" The man cocked his head to one side.
Alex considered he might have come off a little too strong, and for a moment, he was embarrassed by his mini-tirade about how awful the holidays were. He didn't back down though. In fact, he realized he'd made a good point. Like he'd told the guy, he could go to the candy aisle if he needed chocolate and mint so badly. "It's true," Alex said. Frustrated with himself for getting sucked into the marketing, he was thankful some crazy person in a sweater had come along to snap him out of buying the peppermint bark—or worse, into the peppermint delusion—when he didn't want it.
"It's not the same!" The man protested. "This has a pepperminty crunch! It's magical! I can't imagine not loving peppermint bark!" Alex quirked an eyebrow and backed away slowly. "Or Christmas! Or candy canes! Of course, I bet that's because my mom set me up with the whole naming me after Saint…" Alex shook his head, muttering "Merry Christmas," and went down an aisle before the man could finish explaining how his mother's love for Christmas somehow translated into a desperate need for peppermint. He didn't have the energy for any of this. Instead, he stalked away, grabbing a bag of chocolate-dipped pretzels—sans any sign of peppermint—before checking out.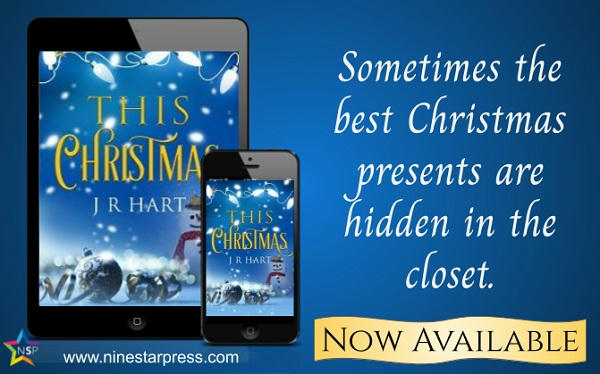 About J.R.!
J.R. Hart is a queer 30-something novelist passionate about telling romantic and erotic stories about LGBT+ characters. When J R isn't writing, you can find her at the science museum with her son, cheering for her favorite soccer team, or at The Bean Coffee Co plotting her next work. You can find her on Twitter and Instagram as @jrhartauthor, or on her website at jrhartauthor.com.
Twitter | Instagram | Tumblr | Pinterest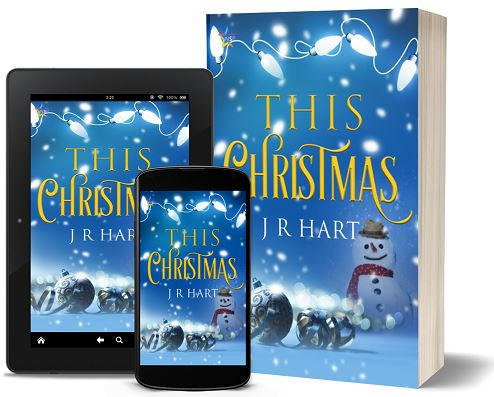 Giveaway!
One lucky winner will receive a $10.00 NineStar Press Gift Code!