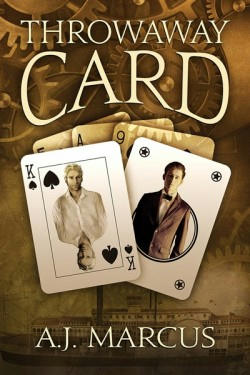 Title: Throwaway Card
Author: A.J. Marcus
Genre: Historical Americas, Steampunk
Length: Novel (200 Pages)
Publisher: Dreamspinner Press (June 12, 2015)
Heat Level: Low
Heart Rating: ♥♥♥♥ 4 Hearts
Blurb: Hugh Lafoux managed to survive the Civil War, but came out of it scarred for life and with an intricately crafted metal leg. Since the war ended, he's wandered aimlessly, looking for the next card game and easy sex. He boards the Bayou Belle in Saint Louis, expecting a nice easy ride down to Memphis. But he runs afoul of Big Al Shank, the owner of the Belle, and ends up beaten and thrown overboard into the dark river.
Former slave Cotton Freeman spends most of his time hunting alligators along the Mississippi River near Memphis, Tennessee. While looking for larger gators north of town one night, Cotton unexpectedly fishes a man out of the water. As Cotton nurses Hugh back to health, they realize a mutual attraction, and their love grows. But when Big Al Shank returns to destroy them, love might not be enough to win the battle.
ISBN: 978-1-63476-127-7
Product Link: Dreamspinner Press | Amazon UK | Amazon US
Reviewer: Lisa
Review: I have only read one or two books by this author but have always been impressed with the work A.J. Marcus has done. They are well written with a lot of detail and meat to it. I am not a fan of books written with the past in mind. They come off very dry and boring to me. Although this one did have a lot of heat and heart to it, it was also missing something important to make it a perfect story.
A.J. Marcus has created a world that has the feeling of being in a different time period as well as another place altogether. Hugh has been caught cheating and the revenge is to throw his ass overboard. Which I am fairly certain is a better chance than most would have gotten back then. He had not expect Cotton to rescue his ass. Now Cotton use to be a slave and afterwards he basically hunts gators along the water coast, which is how he came to be in place to drag Hugh's ass out of the water.
Now their love is heating up and they have the riverboat owner coming for them, the need to protect each other. With the help of Cotton's friend Casandra, they are about to get pay backs. Now this story is a bit different than most that I have read. I mean you have romance, hot sex, steampunk and a bit of history to it. You have two characters who have heat, are very sexy and a bit quirky in my eyes who have found love with each other which is a main attraction to me.
I enjoy the look into their world and what it is like to be different from one another. A.J. Marcus has managed to pull off a historical type story with difficulties that others came across in the past and made it a pretty good read. I can honestly say that this is a damn good book, but was not for me. It is a very fast paced story with a pretty damn good plot to it. I loved the characters and their mismatched ways. Like I said the book was not for me, however it was one fantastic read for those who like the historical type stories. I would recommend it.