Hi guys! We have Patricia Logan stopping by with the tour for her new release Thunder & Lightning, we have a fantastic exclusive excerpt and a brilliant giveaway so check out the post and click that giveaway link! <3 ~Pixie~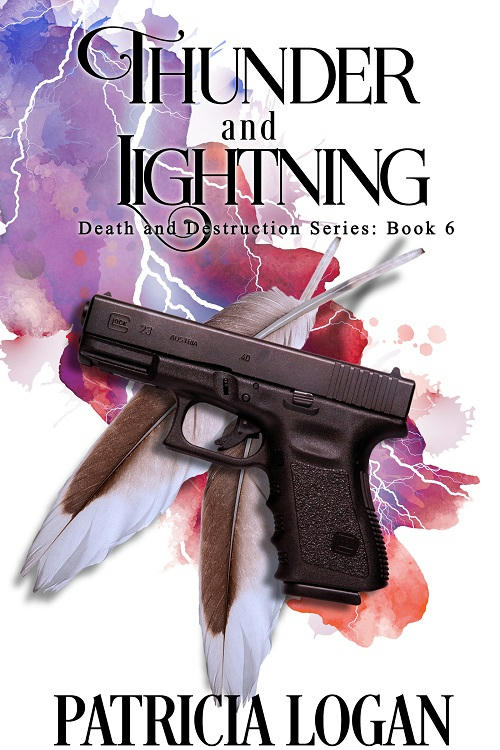 Thunder & Lightning
by
Patricia Logan
Jarrett Evans and Thayne Wolfe have been partnered in the ATF for nearly two years and their love and commitment to each other has grown over time. Now faced with one final challenge, the boys are headed to Arizona to help Thayne's mom, stumbling headfirst into a brand new case. When a man is shot on Dot's sister's ranch, their informal investigation leads to the Native American reservation bordering the property.
Juggling tricky tribal politics isn't something Jarrett and Thayne are accustomed to but, as with most things in their lives, nothing is ever uncomplicated. When a surprise sighting shakes Thayne to his very foundation, they call out for help and their colleagues ride to the rescue along with a little help from the FBI. The mystery on the reservation only deepens when they start putting two and two together. Questionable cigarettes at the Ahtunowhiho Trading Post may be the least of their worries.
From the mean streets of Los Angeles to the vast deserts of Arizona, Thayne and Jarrett once again brave the minefields of bad guys, bigshots, and a vicious betrayal that kicks them in the ass. But one thing is certain. Thru thunder and lightning, Jarrett and Thayne are never alone. They'll fight for each other down to the last man standing, even if it costs them their very lives.
Exclusive Excerpt!
"Okay, so… if any version of what you just described is happening, we may have a major smuggling ring going on right here under the Phoenix office's nose. That pisses me off and in addition to that, I'm pretty sure the two of you know what a clusterfuck it's going to end up being if we start riling the local tribes with nothing to show for it in the end."
"Trust me. We know politics, ma'am," Jarrett said.
She pinned him with an intelligent yet pointed stare. "I have no doubt in my mind that a man like you knows politics, Special Agent Evans. You have 'troublemaker' written all over you." She let her gaze slide over his form and Thayne watched Jarrett squirm a little in his chair. She glanced back at Thayne. "I can tell you right now, if we demand an investigation on a sovereign Native American Indian reservation and it turns out to be nothing, the agency is going to look like a big slimy splatter of prehistoric bird shit. If you thought the Gunwalking scandal or Fast and Furious were bad, this is going to forever change the ATF. Arizona is not California. We might all be out on our collective asses and the agency may not survive it."
Thayne swallowed hard, biting his lower lip as he tried not to smile. He liked her but she terrified the ever-loving crap out of him. "Yes, ma'am. We know."
She stood up and they did likewise. "No, you sure as fuck don't. I'm inclined not to even call Stanger to get background on you two because I can already feel a migraine coming on." She reached up and rubbed the bridge of her nose, closing her eyes tightly. 
Thayne stayed silent, glancing at Jarrett every few seconds until she opened her eyes again. "Ma'am?"
"Fine," she breathed out in a huff. "I'll call him but until then, I want you to stay away from that trading post. No, I take that back. I want you to stay far away from that trading post. If that trading post even catches the scent of your farts on the wind, I'll have your guns and badges. Is that clear?"
"Crystal," Jarrett said, reaching out to shake her hand.
Thayne shook her hand as well and they turned to leave. As her door closed, he turned to look at Jarrett, beginning to chuckle. "I fear her."
Jarrett snorted, shaking his head. "I kinda love her."
About Patricia!
International bestselling author Patricia Logan, resides in Los Angeles, California. The author of several #1 bestselling erotic romances in English, Italian, French, and Spanish lives in a small house with a large family. When she's not writing her next thriller romance, she's watching her grandchildren grow up way too soon, and raising kids who make her proud every day. One of her favorite tasks is coaxing nose kisses from cats who insist on flopping on her keyboard while she types. Married to a wonderful gentleman for 30 years, she counts herself lucky to be surrounded by people who love her and give her stories to tell every day.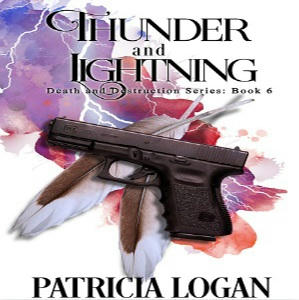 Giveaway!
Win a Paperback of Thunder & Lightning! Win a Backlist Ebook!
(Just click the link below)

Check out the other blogs on the tour!