Hi guys, we have Jeff Adams popping in today with the tour for his upcoming release Tracker Hacker, we have a fantastic guest post from Jeff  where he chats about his new Codename: Winger series, a great excerpt and we also have a brilliant giveaway, so guys, check out the post and then click that giveaway link! <3 ~Pixie~
Tracker Hacker
by
Jeff Adams
High school student. Hockey player. Computer whiz kid. Covert agent?
At sixteen Theo Reese is the youngest agent for Tactical Operational Support. His way with computers makes him invaluable. He designs new gadgets, helps agents (including his parents) in the field, and works to keep the TOS network safe. But when a hacker breaches the system TOS uses to track agents, Theo is put to the test like never before.
Thrust from behind the safety of his desk, Theo must go into the field to put a stop to the hack. He's scared but resolved because one of the missing agents is his father. And just to make it more interesting, he has to keep everything a secret from his boyfriend and teammates.
Can Theo get the job done, save his dad, and make things good with his boyfriend?

Jeff Adams!
Thanks, Pixie, for hosting the first stop on the Tracker Hacker blog tour. I'm excited to be here to kick things off.
All heroes have an origin story and, of course, Theo Reese, the hero in Tracker Hacker, has one too. However, the entire Codename: Winger series has its own origins as well.  Since this is the first tour stop, it made sense to focus on that story.
Tacker Hacker's release is particularly timely because the idea for the Winger series was born at GayRomLit in Chicago. With Tracker Hacker releasing October 17, that means it's coming out a day before activities for this year's GayRomLit kick off in Denver.
One of the best parts about GRL in Chicago was the big fire pit gathering area that was available to hang out in.  One evening, as my husband, Will, and I were leaving one of the parties, we came upon Z.A. Maxfield sitting there, relaxing. We stopped talk because ZAM is one of our favorite people. I was asking for some career guidance. The Hat Trick series was wrapping up and I needed to figure out what to do next. Clare London, another of our favorite people, also joined this conversation when she found us chatting.
I also wanted to write more in the Young Adult space because I'm passionate about young people being able to find themselves in books. However, I didn't want to necessarily do another coming out or first love/romance book, which I felt I'd already covered in the Hat Trick books, which are in the Young Adult/New Adult genre.
Separate from this conversation we were having, over the course of the retreat, I'd been randomly hearing someone's ringtone, which was the communicator sound from the Disney cartoon show Kim Possible. I loved that show because it was a smart turn on a teen heroine who saved the world repeatedly.
By the time Clare, ZAM, Will and I finished the conversation, I had an idea for a hockey playing (because nearly all my stories have hockey in them), computer genius who was a covert agent and also had a boyfriend. One of the things I liked most about the guy I was creating is that being gay was the least interesting aspect of his personality.
On the way home from Chicago, I wrote what would become Tracker Hacker's prologue, which is Theo introducing himself to the reader. Over the next two years I went from plotting out four books, pitching them to Harmony Ink and writing the book. With Tracker Hacker just a few days from publishing, it's exciting to announce that Theo's second adventure will be out in Spring 2018 and I'm currently writing the third.
I hope you're as excited to meet Theo as I am to introduce him to you.
Below is an excerpt from the book. There's also a giveaway that's going on across all the blog tour stops–the grand prize is an autographed paperback (which I'll ship anywhere in the world) and there will be one first prize winner from the entrants at each stop along the way. So, the more stops you visit, the more chance you have to win.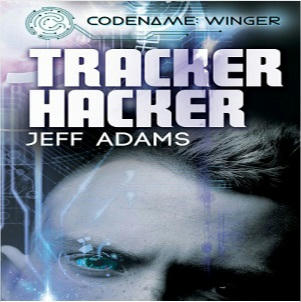 Excerpt!
Here's a brief excerpt from the book. Here Theo returns home following an afternoon studying—and more—with his boyfriend. He's already received some information about a problem with the covert agency's agent tracker system and it's something he'll be working on into the night. This scene shows you some of the dynamics of Theo's complicated life as teenager and secret agent.
~~~~~
I hated leaving Eddie's house. A couple of hours tangled around each other under the covers was difficult to walk away from. But we both had homework. Plus it would look really bad if his parents caught us undressed when they got home, which would be soon.
I'm pretty sure our parents knew we messed around, but they all made it clear they expected us to behave most of the time. When I was at Eddie's house, there was a door-open policy—of course that only happened when his parents were actually there.
We never could've gotten away with what we'd just done at my house. When my parents were gone, Uncle John, aka Shotgun, was there.
He's Mom and Dad's primary support for missions. For a while that included babysitting me. Now it's more about appearances—making sure an adult is around when they're gone for long stretches—because I'm old enough to take care of myself.
It still sucked never to have the house to myself. At least Eddie has that fairly often.
It was an exhilarating ride home. Eddie lived about five miles away, and on crisp fall evenings, I loved the trip. I zipped all over the place on my road bike. I was speedy. No one understood my obsession with the riding as I had a perfectly good driver's license. But on the bike, I was never stuck in traffic, and I got to enjoy the outdoors.
Mom and John were both home. They must be strategizing something if John was here. Maybe they were working on the tracker issue too. I hadn't heard back from Lorenzo yet, which was strange. If it'd become such a high-profile issue, I didn't understand why my access was still an issue. The emails were still flying around. I hadn't caught up on them, but several had come in while I was with Eddie.
I parked my bike in the garage, putting it up onto its rack to help remind myself to pump up the front tire in the morning. I could tell it was a bit flat because of how the bike handled on the way home. I had a corner of the garage for my bike work. I liked to try out new hardware from time to time, like swapping out the derailleur, to make sure it was lean and fast.
In the house the kitchen was empty, as was the living room. Mom and John were in the office she and Dad shared. You'd think a house where two operatives lived would have an office tricked out with gadgets, but it didn't. Mom and Dad each had a laptop and a couple of monitors. It looked like a basic home-office setup with an antique oak partners desk, which allowed them to face each other. John had a separate desk along the wall with a similar setup. The office looked nothing like a high-tech base of operations. The three of them might as well have been accountants. Mom and John huddled around her computer.
"Hey, Mom." I went over and gave her a quick hug. "Hey, John."
He and I did our usual fist bump with an explosion.
I didn't put myself in a position to look at the screens. I knew better. They respected my workspace upstairs and I respected theirs. We were each cleared for different things. Many of the projects I worked on in the tech world were things they weren't allowed to see. Missions that Mom, Dad, and John worked on were often outside my clearance unless I was their assigned tech support.
"So, I've got a question." I changed the topic. "Do I have one of those tracker chips in me?"
Mom and John traded a glance that gave me the answer before they said a word. Did they really think I'd miss that? I rubbed behind my left ear again and didn't feel anything unusual. Of course if it was always there, it wouldn't feel unusual.
"You do," Mom said.
The look of irritation I gave her probably would've gotten me in trouble with most parents, but things were different here. "How could you not tell me?" The irritation went right into my voice too.
"Everyone has them," she said. She closed the laptop and focused on me. "Remember when you had your tonsils out right before your twelfth birthday?"
Of course. If I had thought about it long enough, I'd have figured that out. It was the only surgery I'd ever had. I'd had broken bones and sprains from hockey, but those hadn't provided a moment where something could be implanted without my knowing about it—unless it was some groovy nanotech. As far as I knew, TOS didn't have that kind of capability yet.
"Why didn't you tell me?" I returned to the issue. "That's not exactly fair."

About Jeff!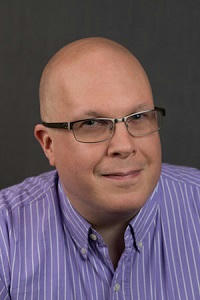 Jeff Adams has written stories since he was in middle school and became a gay romance writer in 2009 when his first short stories were published. Since then he's written several shorts and novels.
Jeff lives in rural California with his husband of twenty years, Will. Some of his favorite things include the musicals Rent and [title of show], the Detroit Red Wings and Pittsburgh Penguins hockey teams, and the reality TV competition So You Think You Can Dance.
Jeff is the co-host of Jeff & Will's Big Gay Fiction Podcast, a weekly show devoted to gay romance fiction as well as pop culture. New episodes come out every Monday at biggayfictionpodcast.com.

You can learn more at jeffadamswrites.com or on Twitter and Facebook Jeff & Will's Big Gay Fiction Podcast: http://www.biggayfictionpodcast.com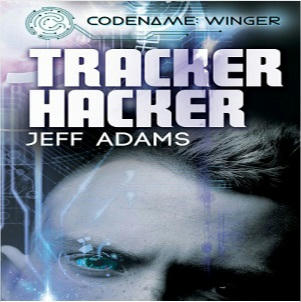 Giveaway!
One winner from each stop on the blog tour will win an ebook and one lucky person from across all the stops will get an autographed paperback (I'll ship it anywhere in the world).!