Hi guys! We have Rayna Vause popping in today with her upcoming release Twice Bitten, we have a great intro post from Rayna, a great exclusive excerpt and Rayna's brilliant giveaway, so check out the post and pop over to Rayna's site to enter the giveaway!  ❤ ~Pixie~
Twice Bitten
by
Rayna Vause
With a new species of vampire stalking the streets, the stakes are high. But that's not the only reason hearts are on the line.
Danny Reynolds thought Kieran McCade was the one—true love and hot lust forever—until Danny found out Kier's bloody secret and ran away screaming. Months later, Danny is facing his own paranormal crisis, and he needs Kieran's help, but are there enough ways to apologize for breaking a vampire's heart?
Nothing about Danny's transformation is normal—not the attack that led to it, and not the symptoms Danny's plagued with—but being in close proximity to Kieran is even worse than becoming a thing that goes bump in the night. Danny and Kieran aren't the only things threatening to bump each other off, though. Secret organizations and clashing vigilante agendas want to get their hands on Danny. His only hope is to find a fix for his problem before he's either captured or his abnormal transition starves him to death.
Danny and Kieran might have a real chance to repair their broken romance… but only if they keep Danny alive!
Rayna Vause!
I want to thank everyone at MM Good Book Reviews for hosting me today and letting me talk about my coming release from Dreamspinner Press entitled Twice Bitten. Yes, it's a vampire story, but I like to think I've put my own unique spin on things. When most people think of vampires they think of sexy, tortured, creatures of the night. I do too, but I also think of DNA. I can't help it, I've got a background in medicine.
Anyway, I tell you this because to me vampires are actually a fun mix of magic and science. I mean transforming from human to vampire means that you are fundamentally changing your genetic code, to my way of thinking. But what if something goes wrong? What if your conversion from human to vampire is far from normal and you get stuck somewhere in between? That's the main idea I was exploring in Twice Bitten and it really got my geeky writer's juices flowing. I hope you'll check out the book, but for now, let me give you a little peak inside.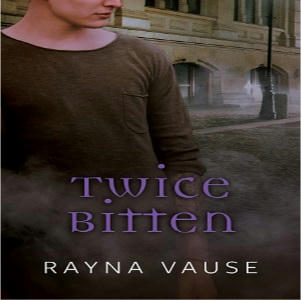 Exclusive Excerpt!
"Dance with me."
He walked toward Kier, stopping an arm's length away. Kier stared at the steady hand reaching out to him. Even as he craved holding Danny in his arms, a small part of him wanted to hold back, to protect himself. Still, he reached out and let himself be drawn into the man, the music, and the memories. His gaze locked with Danny's as he tugged him close, holding him body to body. Danny slid his hands up Kier's chest and looped his arms around his neck. Kier rested his hands on Danny's hips. They started to sway, their movements fluid and familiar.
Kier closed his eyes and breathed deep. Danny's warm, clean aroma filled his senses. Nothing else in the world smelled as intoxicating as him. Nothing else could ignite a slow burn deep inside. Kier's breathing came a little faster, and his body went hard. He pressed his cheek to Danny's temple as he rubbed his hand up and down his back. Damn, he missed this.
"Do you remember the first time we danced to this?"
Kier nodded. "That country and western theme night you dragged me to. Thank God they broke up the blocks of country with other types of music."
"You had fun."
"I did after a few shots of bourbon."
Danny chuckled and gave him a light whack on the shoulder. "I remember you standing at the bar surrounded by a small harem of women. Man, were they disappointed when you walked over to me."
"Yeah, well, I was going into perfume overload."
"I was happy to be your escape route. Happy to be held in the arms of an amazingly beautiful man. Happy, period. You made me happy. You still do."
Kier leaned back so he could study Danny's eyes. He stopped dancing. He stood there continuing to hold the man who had the ability to destroy him in his arms. What the hell am I doing?
Danny reached up and caressed his cheek as he pressed even closer. Kier sucked in a breath as low-level currents of electricity thrummed through him. Danny carded his fingers through Kier's hair and set tingles dancing over his scalp. Danny started singing to him in that sexy, off-key manner about being taken into loving arms and kissed under the light of a thousand stars. He sang until their lips were a mere breath apart. Then the singing stopped, and Danny pulled Kier down and pressed a soft kiss to his lips as he slid his leg between Kier's. He brushed his thigh over the bulge in Kier's pants.
Danny tasted, nipping and nibbling and driving Kier out of his mind. The slow sampling didn't last long. This time Kier took the lead and claimed Danny's mouth. His familiar flavor flooded Kier's senses. He delved deep with his tongue, licking and caressing, as he took his time exploring the landscape of Danny's body with his hands.
Everything ceased to exist but this moment and this man. The fresh hunger hit Kier. He wanted to taste more than Danny's skin. He wanted to drink the rich blood that ran through his veins while he buried himself deep inside of Danny. Kier could hear the rapid thump of Danny's heart pounding, the rush of his blood.
Mine, he thought and growled as his fangs started to drop. His heart thundered; his breathing was loud and ragged. Only Danny could do this to him, make him forget everyone and turn into a ravenous beast.
The sharp call of Kier's name cut into his consciousness and allowed reality to creep in. When the call came a second time, he stepped back from Danny and sucked in a sharp breath. He opened his eyes to see a kiss-dazed Danny standing in front of him and Alex a few feet away, looking ready to tackle him should it be necessary.
"I'm fine, Alex. I promise." Guilt, need, and confusion all swamped him.
"Kier? What just happened?" Danny bit his lip and furrowed his brow as he reached out.
Kier stepped back. "I'm sorry. I got caught up in the moment, and things got a little out of hand."
"It's okay. If you need that from me, I'm offering willingly."
Kier took another step away. He needed to settle, to think, and he couldn't do it with Danny this close.
"Thank you. You don't know what that means to me to hear you say that, but taking that step is too much too soon. We need to talk to Sharon and figure out if your blood is safe to drink. We need to think before we take that step. We need to—I need to slow way down." Kier shoved a hand into his hair. "I need some air."
He started to walk past Danny, but instead he paused and brushed the back of his finger over Danny's cheek. "I'll be back in a bit." With that said, he turned and strode off down the hallway to his office, leaving a stunned Danny in his wake.
About Rayna!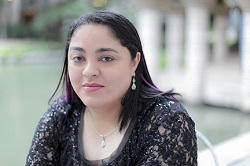 Rayna Vause is a lifetime learner who wants to live on a Disney cruise ship travelling the world and thinks purple should be considered a natural hair color. She's fascinated by the magic and mystery in the world; things like psychics, demons, cats (especially cats!) and true love. A proud geek, she injects some of her science and tech-obsessed soul into every story she writes. When not writing she's pursuing another degree, running a conference, working through her massive TBR pile, losing herself in a video game, and plotting her next novel.
Giveaway!
Win an ebook copy of Demon of Mine!
(Just click the link and enter the Rayna's contest)