Hiya guys! We have S.A. Stovall stopping by today with her upcoming release Vice City, we have a short intro from S.A., a great excerpt and a fantastic giveaway, so guys check out the post and leave a comment to enter the giveaway! <3 ~Pixie~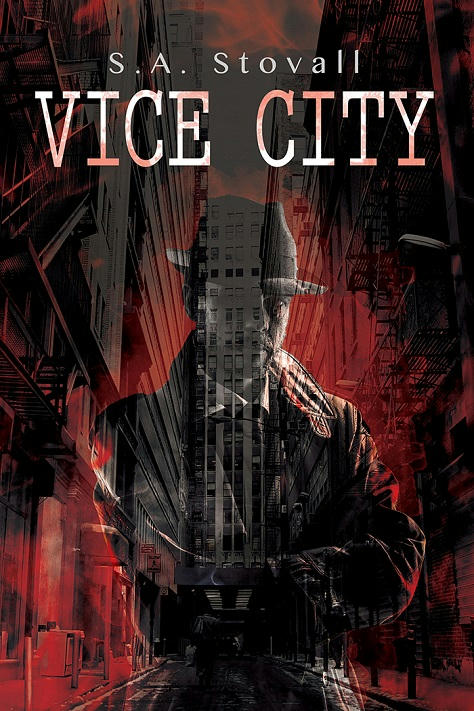 Vice City
by
S.A. Stovall
After twenty years as an enforcer for the Vice family mob, Nicholas Pierce shouldn't bat an eye at seeing a guy get worked over and tossed in the river. But there's something about the suspected police mole, Miles, that has Pierce second-guessing himself. The kid is just trying to look out for his brother any way he knows how, and the altruistic motive sparks an uncharacteristic act of mercy that involves Pierce taking Miles under his wing.
Miles wants to repay Pierce for saving his life. Pierce shouldn't see him as anything but a convenient hookup… and he sure as hell shouldn't get involved in Miles's doomed quest to get his brother out of a rival street gang. He shouldn't do a lot of things, but life on the streets isn't about following the rules. Besides, he's sick of being abused by the Vice family, especially Mr. Vice and his power-hungry goon of a son, who treats his underlings like playthings.
So Pierce does the absolute last thing he should do if he wants to keep breathing—he leaves the Vice family in the middle of a turf war.
Release date: 20th June 2017

S.A. Stovall!
Hello everyone! This is SA Stovall here giving you a sneak peek at my m/m thriller romance, Vice City, releasing June 20th! If you want to win a free copy, comment down below answering the question, "What's your favorite genre to mix with m/m romance?" (Along with your email address, so I can get in touch with you!)
Obviously I love me some crime thrillers. The winner will be determined June 27th, so keep an eye out for that!
Enjoy the sneak peek!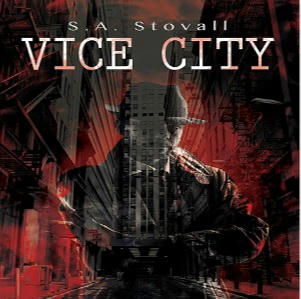 Excerpt!
I wake on my stomach, my internal clock ringing at the crack of dusk.
It's night. I know it to be true. It's time for me to get up.
A pair of hands runs the length of my back. I stiffen and arch up, but whoever it is pushes me back down with gentle motions.
"It's just me," Miles murmurs.
He straddles the back of my legs and runs his hands over me a second time, raking his fingertips across the skin. I shudder beneath him, confused but enjoying his touch. He grazes one of my injuries—a bruise on my ribs—and I gasp. Miles pulls away and avoids the spot, keeping his kneading close to my spine. Once the dull pain subsides, I relax into the caressing. I'd purr if I could.
"You've been sleeping for a long time," he says in a low and soothing voice.
"I needed it."
In comparison my voice is gruff and rusty. It doesn't help that I speak into the blankets, half lying in a pool of my own sweat.
I attempt to stir and get up, but Miles urges me down with his hands. "I should shower," I say.
"I don't mind."
I rest back on the bed. "How's your brother?"
"He's upset that we don't have any hits for him. And that he can't leave. And that we kidnapped him. He's in a constant state of… anger. To put it mildly."
"I can imagine," I drawl.
"I'm gonna try talking to him once he's detoxed a little."
"Heh. Good luck."
Miles massages my shoulders and the nape of my neck. I moan into the bed. He's good at pleasing me, that's for sure. I sigh and stretch my arms above my head. I get hard thinking about his affections, and I realize I'm still wearing my pants. Damn. I hate sleeping in clothes. I must've been desperate.
"Did you rest at all?" I ask, wondering about the day that took place without me.
"Yeah. This is a nice cabin."
"I enjoy it."
"I thought you liked the city more."
"Depends on my mood. I'm not feeling the city life much lately."
"You're planning on leaving, aren't you?" Miles's tone is more accusatory than anything. He doesn't stop with his hands, but I feel the shift in his mood. I tense under him. I don't want to have this conversation.
"Nothing's set in stone," I say. "Whatever happens, I'll make sure you're taken care of."
Miles stops his hands. For a moment the room is mute. I hear him sigh, and he leans down to kiss my back. "Think about it long and hard, okay?" he whispers. "I'd rather have you with me than be taken care of."
I don't reply. He deserves something better than me—he just doesn't realize it. Once he has a fat stack of cash, a lot of his problems will disappear. He can have the life he always wanted, and I can go die off in the wilderness somewhere, most likely from lung cancer. It's the ideal scenario.
I sit up on my elbows. "I gotta piss."
Miles gets off me and I roll to the side. My bladder can't take much more. I feel like a racehorse that's been holding it for over twenty-four hours. I hustle to the bathroom and unzip my pants. I wait a long moment—being hard makes it difficult to unload—but eventually I groan in sweet release.
I finish and go to the sink to wash up. My skin has a fine layer of sweat and grime. I need a shower.
I shed the last of my clothing and step into the spacious stall. I flip on the water—it's freezing and I jump away—but the heat comes within seconds. I splash and scrub my body clear of the drunken hobo scent and replace it with whatever lavender bullshit the cabin rental place stocks.
Despite feeling clean, my body still aches. My injuries won't disappear as easily as they did on Miles. I grab a towel and dab the water away, careful not to touch anything sensitive. I toss the towel when finished and walk back into the bedroom.
Miles waits for me on the bed, leaning back with his legs spread. He's dressed in casual attire—he must've gone out for clothes at some point because everything he has is brand-new—and I enjoy the way his jeans hug his thighs and his T-shirt clings to his lithe body. His short hair is slicked back, and he has a sleek handsome look about him that's hard to describe. It's suave. I like it.
Miles catches me staring. He widens his legs farther and motions to the bed with a tilt of his head. I walk over, crawl onto the mattress, and take a seat with my back against the headboard. Miles jumps onto my legs, his knees on either side of my hips, and pins me back, forcing his tongue into my mouth.
His rough urgency excites me. If I had known he was so pent-up, I would've rushed through my shower.

About S.A.
S.A. Stovall grew up in California's central valley with a single mother and little brother. Despite no one in her family having a degree higher than a GED, she put herself through college (earning a BA in History), and then continued on to law school where she obtained her Juris Doctorate.
As a child, Stovall's favorite novel was Island of the Blue Dolphins by Scott O'Dell. The adventure on a deserted island opened her mind to ideas and realities she had never given thought before—and it was the moment Stovall realized that story telling (specifically fiction) became her passion. Anything that told a story, be it a movie, book, video game or comic, she had to experience. Now, as a professor and author, Stovall wants to add her voice to the myriad of stories in the world, and she hopes you enjoy.
You can contact her at the following locations.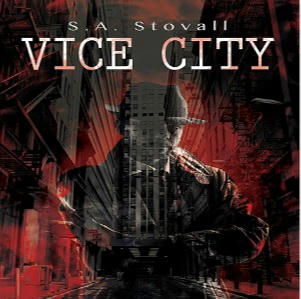 Giveaway!
Win an ecopy of Vice City!
(Just leave a comment with your email with the answer to S.A.'s question)
"What's your favorite genre to mix with m/m romance?"