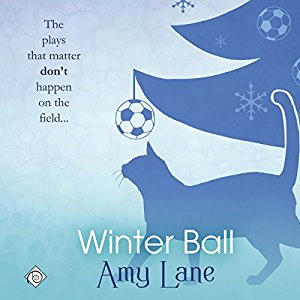 Title: Winter Ball
Series:  Winter Ball 01
Author: Amy Lane
Narrator: Nick J Russo
Genre: Contemporary, Sports
Length: 5 hrs, 35 mins
Publisher: Dreamspinner Press LLC (23 Feb 2017)
Heat Level: Moderate
Heart Rating: ♥♥♥ 3 Hearts
Blurb: Through a miserable adolescence and a lonely adulthood, Skipper Keith has dreamed of nothing but family. The closest he gets is the rec league soccer team he coaches after work – and his star player and best friend, Richie Scoggins.
One brisk night in late October, a post-practice convo in Richie's car turns into a sexual encounter neither of them expected – nor want to forget. Soon Skip and Richie are living for the weekends and their winter league soccer games – and the games they enjoy off the field. Through broken noses, holiday decorating, and the killer flu, they learn more about each other than they ever dreamed possible. Every new discovery takes them further beyond the boundaries of the soccer field and into the infinite possibilities of the best relationship of Skipper's life.
Skipper can't dream of a better family than Richie – but Richie's got real family entanglements he can't shake off. Skipper needs to convince Richie to stay with him beyond winter ball so the relationship they started on the field might become their happy future in real life!
Product Link: Audible US | Audible UK
Reviewer: Prime
Review: Amy Lane is one of my favorite authors. I've enjoyed a number of heartwarming one of my favorite. Don't get me wrong, I enjoyed the story and the writing – for me it nothing in particular about the characters really grabbed me and I felt that sometimes the pacing dragged a little.
Winter Ball is your usual kind of gay-for-you, friends-to-lovers story set from the end of spring to around the Christmas Holidays (if the title didn't give it away I don't know what would).
Skipper is a lonely guy – he's never had real close friends or family. He lives for – at least socially – the soccer team he plays on. For now it is the team that satisfies his need for a family of some sort. Then there is Richie – he's got just as much baggage as Skip. Richie comes from a screwed up family and the way they treated him was abusive. So Richie "skipped" town as a teen (sorry for the pun) and tried to start over again. He's on the same soccer team as Skipper and when the book opens, Richie and Skip are already acting on their mutual attraction, although they are extremely cautious about their budding relationship let alone jump out the closet screaming.
There was plenty of angst and emotion, which certainly helped me stay with the story. I think though what didn't grab me was that there was no lead up to the guys getting together, but we had to go through the motions and angst that comes with the guys staying together. However, Nick J Russo's ability to convey the message of story and the lives of the characters was another definite plus for the story.