Hi guys, we have Julia Talbot popping in with her upcoming release Wolfmanny, we have a fantastic guest post and a great excerpt, so check out the post and enjoy! <3 ~Pixie~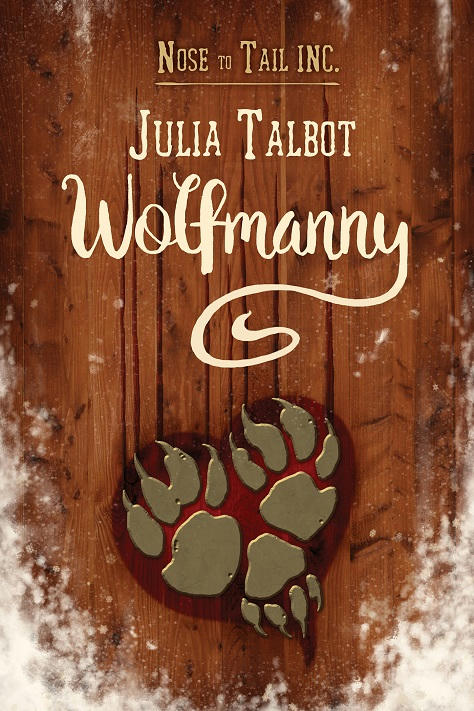 Wolfmanny
by
Julia Talbot
Three hot werewolves, sexual tension thick enough to cut with a knife, an impending Colorado winter, and a rambunctious pack of werewolf pups. Stand back and watch the fur fly.
When Kenneth Marcon loses his nanny to a bite from one of his inherited kids, he knows he needs someone strong to contain five werewolf children. What he finds isn't a stalwart nanny, but a werewolf manny named Jack. Kenneth and his assistant, Miles, aren't sure if Jack is what they need, but he's what they have to work with.
Jack's got what it takes to keep the kids busy—and attract both Miles's and Kenneth's attention. The two old friends have been circling each other for years, but with Jack as the final piece to the puzzle, it's time to finally act on those urges. When Kenneth is forced to travel instead of solidifying the bond with his new mates, Jack and Miles take desperate measures to get him back, even as they save the kids from one disaster after another. Amidst the chaos, they have to learn how to become not just a pack, but a family.
Release date: 6th February 2017

Julia Talbot!
Hey y'all!
I'm Julia Talbot and I'm here to chat about Wolfmanny, my upcoming release from Dreamspinner Press.
When I came up with this book, the first thing I came up with was the title. I wanted to call it The Wolfmanny as a play on The Wolfman, the classic werewolf horror film. I thought it was so clever, right?
Well, the publisher had another book coming out around the same time called The Virgin Manny, and they didn't want to confuse people so I ended up having to drop the The. I was sad. No one would get the joke anymore. I pounded my chest and pulled my hair and pouted as all authors do when they have to change something and are being idiots about it.
Turns out, people love the title.
They really do.
I can't tell y'all how many people have said they pre-ordered the book based on the title alone. Dropping one tiny word didn't matter, did it?
I'm one of those authors who resist change. I don't, by any means, think my words are perfect. Never. In fact quite the opposite. I still dig in my heels and ponder every tiny edit. Let this be a lesson to me that some things work out perfectly, just as they're supposed to, even if I'm not holding the only control button.
Anyway, if the title pulls you in, I hope it's the story that keeps you. Miles and Kenneth and wolfmanny Jack have a lot of kids to take care of and a lot of work to do to make their little pack work out.
I hope y'all love it. Even without the The.
XXOO
Julia Talbot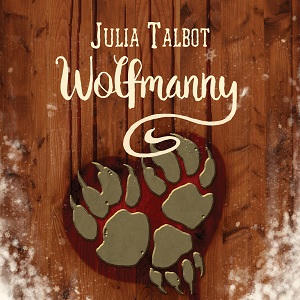 Excerpt
"SHE BIT me!"
"What?" Kenneth stared at the woman who was red-faced and squawking at him. Seriously, he shouldn't have hired an ostrich for a tutor. She was supposed to be the best, though, and his pack, they deserved the….
"She's a fucking liar, Uncle Key!"
"Simone! Watch your mouth!"
His fifteen-year-old niece had suddenly developed a potty mouth. Kenneth rubbed the back of his neck with one hand. "Now, everyone stop shouting and tell me what's going on."
"What's going on is you need a pack enforcer, not a tutor." Mrs. Bec flapped her arms. "She's a menace, and those twin boys…."
"They haven't even figured out their fingers yet." The twins were barely three and had gone from being wolf cubs to being human for the first time only a few weeks before.
"They're already running. I can't cope." Mrs. Bec straightened her bony shoulders. "My final check—"
"Will be direct deposited on the usual day." He stared her down. This he was good at. Money was his bailiwick.
"Excellent. You should marry, immediately if not sooner. Some woman with an iron soul and the ability to beat these hooligans with a shovel."
Simone growled at Mrs. Bec, the wolf right there under the surface.
"Mrs. Bec, you're embarrassing yourself. Simone, go to your room." He held up a hand. "We'll talk, and you're not being punished for anything but the f-bomb. Got it?"
She nodded, her eyes flashing, the hormones undeniable, inescapable. Simone whirled on her heel and pelted up the stairs.
"She can't help it," Kenneth said. None of them could. Teenagers lived in hell.
"She needs to learn to, but obviously I'm not the bird to do it."
"No. Obviously not." Kenneth was tempted to bite her himself. "I don't suppose your agency is willing to send a replacement."
"No." She sniffed. "There's a place called Nose to Tail that might have what you need. They do everything from bodyguards to gutter cleanings."

The implications there made his ears ring with the need to howl, his anger sudden and overly harsh. "Do you need help packing?" he asked, his calm hard-won and strained. He couldn't have fought his growl for love or money.
"No. I'm already packed. I need help getting to the car."
"Miles!" he barked. "Get her shit to the car, and make sure you remove her access fully."
"Yes, Alpha. My pleasure."
"Thank you." He needed to check on the little ones before venturing up to talk to Simone.
Ginny and Thomas were standing there, both red-faced and ramped up enough that they vibrated.
"We didn't do it," they said in perfect sync.
"Will you miss Mrs. Bec?" He knew better, but asking would make them go Ewwwwwww.
They shook their heads. It was as if these two were the twins, for God's sake, not Joe and Jim. Ginny and Thomas were three years apart, but the little shits were thick as thieves, especially now since Ginny had let Thomas hack her hair off, and they were both wearing jeans that made them appear to be ragamuffins instead of the well-off hooligans they were.
"Well, then, you should be pleased. Mrs. Horn will be watching the kidlets, but you'll have a few days off until I can find a new tutor." He fixed them with a hard stare. "No injuries, deaths, or emergencies. No running off, no hiding your siblings in the attic, or anything else I forgot to mention that might upset me or any of the staff. Clear?"
They nodded. "Can we go play outside?"
"Does play involve fire?"
"No, Uncle Key." Thomas's grin was innocent, but Ginny had the eye twinkle of a demon.
"No fire. No tsunamis with the hoses. No dyeing Leon purple." Leon was their old wolf-hybrid dog, who usually stayed with Nadine in security these days. He'd come with the kids when Ken's sister had passed away.
God, he missed that evil woman.
"Leon liked it," Ginny whispered.
"Be good, demon cub." He opened his arms for the hugs he knew would come. They drove him crazy, but he loved them more than life.
They piled on him, their insecurity plain, even after three years with him. He hugged it out, nose buried in Ginny's hair. She still smelled puppyish.
Simone, not so much. "I need to go beat your sister, okay?"
"She was bitey," Thomas said.
"It was totally cool," Ginny added.
"No. Biting is not cool with someone I hired to teach you not to be heathens."
"Uh-huh."
He was not going to survive that girl becoming a teenager. She had serial killer written all over her.
"Be good." He kissed the tops of their heads. "I'll see you for lunch."
"Yes, sir." They ran outside, a herd of elephants from the sound of it.
He took a deep breath before walking up the stairs. Mrs. Horn had the twins in the nursery, singing to them, so he moved on quietly. Time to face the ravening wolf teen.
Simone was sitting on the edge of her bed, more than a little fuzzy around the edges.
"Hey."
She looked up at him, tears in her eyes. "I'm a freak. I'm not like you."
"Oh, kiddo. Sure you are. You should have seen me at seventeen. My left ear stayed in wolf form for three weeks once." Kenneth sat next to her. "I wish your mom was here. I know it's tough to be the only young adult female in the house."
"It sucks. This all sucks. I want… I want to be like all the girls in the TV shows, you know?" She burst into tears. "This is supposed to be the best time, when I'm pretty and I'm… biting that evil old bird!"
"Hmm." Yeah, not so many TV shows got it right. Pretty Little Whatevers didn't explain how new shifters fought the unibrow and shit. "I think we can work on you being you."
"I don't want to be fuzzy and… all crazy."
"Yes, but they don't tell you that all those wolves playing teenagers are actually thirty."
She snorted, the sound a bit watery. "Yeah, yeah."
"Could be worse. You could be the twins. Think how bright and yet quiet the human world is all of a sudden."
"Yeah. They're so crazy right now."
"They're learning whole new ways of interacting with the universe." As wolves, the three-year-olds were pretty solid. As humans, they were toddlers, and everything was new and different. It tended to make for grumpy kidlets.
He put an arm around her. "I'm sorry, honey."
"Me too. I didn't mean to bite her." She started sniffling again.
"I know. She just made you mad." Kenneth would get Miles on the horn to that Nose to Tail place right away. Their new tutor needed to be a predator.
A grizzly.
A great white.
A bull elephant—didn't they count as predators?

About Julia
Stories that leave a mark.
Julia Talbot loves romance across all the genders and genres, and loves to write about people working to see past the skin they're in to love what lies beneath. Julia Talbot lives in the great mountain and high desert Southwest, where there is hot and cold running rodeo, cowboys, and everything from meat and potatoes to the best Tex-Mex. A full time author, Julia has been published by Dreamspinner, Samhain, and Changeling Press. She believes that everyone deserves a happy ending, so she writes about love without limits, where boys love boys, girls love girls, and boys and girls get together to get wild, especially when her crazy paranormal characters are involved. She also writes BDSM and erotic romance as Minerva Howe. Find Julia at @juliatalbot on Twitter, or at www.juliatalbot.com
"The mountains are calling, and I must go"