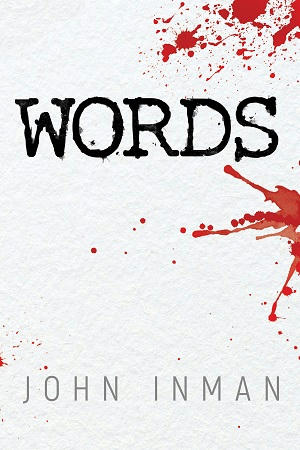 Title: Words
Author: John Inman
Genre: Contemporary, Mystery
Length: Novel (210 Pages)
Publisher: Dreamspinner Press (June 12, 2018)
Heat Level: Low
Heart Rating: 💖💖💖💖💖 5 Hearts
Blurb: The world of writers, readers, and reviewers is a close-knit family of friends, fans, and fiction fanatics. That's the world Milo Cook and Logan Hunter reside in—thriving on the give and take of creativity, the sharing of stories and ideas, and forever glorying in their boundless love of books and the words that make them breathe.
But sometimes words can cut too deep. And when they do, there is inevitably a price to pay.
What begins for Milo and Logan as a time of new love and gentle romantic discoveries, becomes before it's over a race for their lives and for the lives of everyone they know.
Who would ever suspect that an entity as beautiful as the written word could become a catalyst for revenge? And ultimately—murder?
ISBN: 978-1-64080-0156-1
Product Link: Dreamspinner | Amazon US | Amazon UK
Reviewer: Lisa
Review: Wow, I think this author is trying to say something. Logan is always making sure his reviews are honest and somewhat gentle, even with author's that are not all that. After the death of the man he loves, he decides to head west to make a new life for himself. He had wanted to meet a certain author and maybe get his autograph. He just hadn't expected Milo to be what he was.
Milo has been making a name at writing some amazing stories. He was however a bit down that no one had come to see him and get his autograph on his latest novel, but that is the life of an author. That is until one hell of a sexy man comes in and not only gets his autograph but bought two of his stories. A drink does sound good, now doesn't it.
With all of that going on, someone is killing those who write some pretty nasty reviews. He or she has a knack for doing it too. So much so that they have picked their next target.
I liked the hidden word in the story and I will admit that it was kind of creepy. However I had a blast reading this story and the characters just rocked. It does have a darker tone to it that I don't care for but the author just turned it to right tone. Now I was at a stopping point in parts of the story and it didn't keep my attention like it should have. There are just a few issues I had, but those were on me.
I could not guess who the killer was and that was a good sign of an amazing mystery author. It did catch my attention like it should have and it did give me some horrible murder scenes. The romance was worked in their just perfect. I had a blast reading this and can't wait to start in on the next book. I would definitely recommend it.