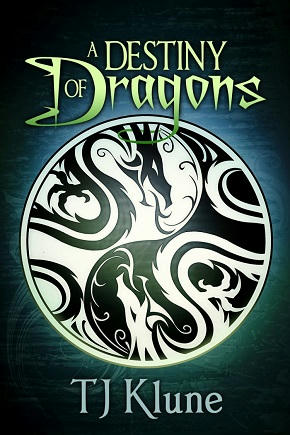 Title: A Destiny of Dragons 
Series:  Tales From Verania 02
Author: T.J. Klune
Genre: High Fantasy
Length: Novel (400 pages)
Publisher: Dreamspinner Press (June 30, 2017)
Heat Level: Low
Heart Rating: ♥♥♥♥♥ 5 Hearts
Blurb: Once upon a time, the wizard's apprentice Sam of Wilds got his happily ever after in the arms of his cornerstone, Knight Commander Ryan Foxheart. A year has passed, and while Sam's been captured five or six more times since then, things are pretty great. His parents are happy, Gary and Tiggy still eat sass for breakfast, Randall is somehow alive despite being older than the gods, the King rules with a gentle hand, Kevin the dragon is as gross as ever, Morgan sighs a lot, Ryan continues to be dashing and immaculate, and Sam is close to convincing Prince Justin they will be best friends forever.
Life is good.
Until it's not.
Because Vadoma, the leader of the gypsy clan and Sam's grandmother, has come to the City of Lockes with a dire prophecy written in the stars: a man of shadows is rising and will consume the world unless Sam faces his destiny and gathers the five dragons of Verania at his side.
And she brings along her second-in-command, a man named Ruv.
Ruv, who Vadoma says is Sam's true cornerstone.
ISBN-13: 978-1-63533-557-6
Product Link: https://www.dreamspinnerpress.com/books/a-destiny-of-dragons-by-tj-klune-8626-b
Reviewer: Shorty 
Review: In this exciting sequel we find Sam is not happy about a grandmother he never knew trying to manipulate him to do a quest. A quest that will have dire consequences if not done. Sam finds himself in the middle of a destiny that has been in the making for thousands of years.
The sarcastic group, as always, heeds the call with some resistance on Sam's part. A lot is riding on Sam. It shocked me to discover who the villain is in this book. My heart broke for both Morgan and Randall upon discovering who it is and why it came to pass.
Zero, the newest dragon is a lonely teen wanting to fit in. Sam is patient with him after the initial terrifying meeting. Kevin and Gary are having relationship problems as well as new cornerstone Ruv in the picture.
This a great story that had me enthralled from start to finish. The journey was dangerous but not without its funny moments. I was on the edge of my seat waiting to see what would happen. I love this series and am on pins and needles to see what happens to the merry bunch next.
Fantastic read and highly recommended.