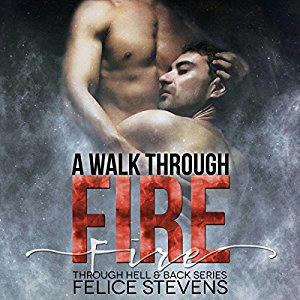 Title: A Walk Through Fire
Series: Through Hell & Back 01
Author: Felice Stevens
Narrator: Kale Williams
Genre: Contemporary Romance 
Length: 10 hrs 
Publisher: Felice Stevens (6th March 2017)
Heat Level: Moderate
Heart Rating: ♥♥♥♥ 4 Hearts
Narration: ♥♥♥♥♥ 5 Hearts
Blurb: Years after running away from an abusive foster family, Asher Davis still struggles with the guilt of leaving his foster brothers behind. He's climbed to unimaginable heights as a ruthless, high-powered attorney, creating a life of power and control.
Blaming himself for the death of his parents, Dr. Drew Klein retreats into a shell of loneliness, merely going through the motions of life. After a disastrous, short-lived marriage, Drew leaves his lucrative medical practice to set up a clinic for abused young men and women. The decision has more repercussions than Drew could ever imagine when the dark and sensual Ash Davis volunteers to help. Although Drew isn't gay, Ash is inexplicably drawn to him. He vows to simply bed him and forget him like he's done with every other man. However, Drew's sweet and caring nature and unexpected passion both stun and frighten Ash, who questions his right to any happiness at all. And when Ash befriends an abused young man who unwittingly draws the clinic into danger, threatening Drew's safety and that of his beloved grandmother, Ash discovers that there is nothing he won't sacrifice to protect the love he never thought he'd find.
©2106 Felice Stevens (P)2017 Felice Stevens
Product Link: http://www.audible.com/pd/Romance/A-Walk-Through-Fire-Audiobook/B06XDFRJVL
Reviewer: Gigi
Review: If you enjoy dark characters with a disturbing past full of pain, you'll enjoy Asher. This is a story full of cycles of abuse, self harm, relationships doomed by scars from the past. A lot of the plot revolves around psychological issues, confronting, sharing, and healing wounds from the past. Learning how to face your fears and move forward is central to the plot. Will Ash find comfort and trust his heart in someone's hands? Will Drew discover something about himself and trust his heart to a damaged man? Just a warning too, there is self harm in this story. 
The characters take a while to unveil themselves, and even though I enjoy the dark and dangerous Ash, and the seemingly naive and too trusting Drew, my favorite character is actually Drew's wise and knowing grandmother. She sees right through everyone! 
Some of the plot is predictable, and yes a bit trite, but honest and sometimes very ugly. It's a good read/listen, especially if you enjoy the hurt/love combo. At least it's a story with a good plot and not just steamy smexy scenes, though there are plenty of those!   
The narrator did an excellent job giving each character defined voices, had a rich smooth tempo, and was good at both dark and brooding and wise old ladies! Definitely worth a read or listen if you're into drama, and healing hurt souls.