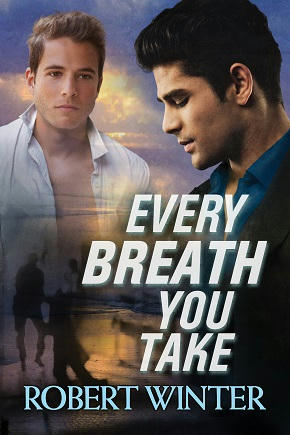 Title: Every Breath You Take
Author: Robert Winter
Genre: Mystery, Suspense Contemporary
Length: Novel (240pgs)
Publisher: Dreamspinner Press (5th May 2017)
Heat Level: Low
Heart Rating: ♥♥♥♥ 4 Hearts
Blurb: When Zachary Hall leaves Utah for a job in Washington, it's finally his chance to live as a gay man and maybe find someone special. In a bar he meets Thomas Scarborough, a man who seems perfect in and out of the bedroom. But Thomas never dates. He never even sleeps with the same man twice. Despite their instant connection, he can offer Zachary only his friendship, and Zachary is looking for more.
Thomas is tempted to break his own rules, but years before, he became the victim of a stalker who nearly destroyed his life. Even though his stalker died, Thomas obsessively keeps others at a distance. Despite his fascination with Zachary, he is unable to lower his barriers. Frustrated, Zachary accepts he will never have what he wants with Thomas and soon finds it with another man. 
But young gay men in Washington, DC are being murdered, and the victims all have a connection to Thomas. Once again someone is watching Thomas's every move. Can it be a coincidence? When the depraved killer turns his attention toward Zachary, Thomas must face the demons of his past—or lose his chance to open his heart to Zachary forever. 
ISBN: 978-1-63533-496-8
Product Link: https://www.dreamspinnerpress.com/books/every-breath-you-take-by-robert-winter-8437-b
Reviewer: Veronica
Review: First time for me reading from this author and I love this story, the detail into the characters' lives, and the suspense. It starts off with a guy who frequents this gay bar, he is followed home, and then he is brutally murdered, and the description that the Police found his body gave me the shivers. The Police investigating the murder digs into past lives and finds that not everything is as it seems.  Zachary, who moves from his hometown Utah to DC to work and live, is gay. He's in the closet where his parents are concerned, because from the way they react when they both hear anything concerning gay people doesn't sit well with him, so he hasn't told them about his sexual preferences.
Fist day into the city, he goes into this gay bar, because he's never been to one, and his BFF back home convince him to visit one. There he meets a couple customers, and they have a conversation. One of the guys in the group, Zach describes as 'one of the most handsome men he's ever met.' They separate from the others and Thomas and Zack plans to hook up at Thomas' home. They leave the bar not knowing that they have eyes on them. The sex scene is beyond hot and steamy and then Thomas tells Zack that he has to leave. Zack plans for another hookup and although Thomas feels deeply attracted to Zack, he has a rule: he doesn't sleep with the same guy twice, no exception, not even for Zachary.
Thomas tells Zack that they can become friends, but nothing more. I love the way that this author had us viewing his victims through his eyes. The creepiness and extreme that this stalker went to, to get Thomas' attention is so scary. The way he watches and follows Zack's every move. When they all work together, and figure out who the stalker is, they're very shocked to see that its someone from Thomas's past. Hopefully they can get to Zack in time to prevent him from being the stalker's next victim.
Anyone looking for the perfect suspense thriller, I would gladly recommend this story.