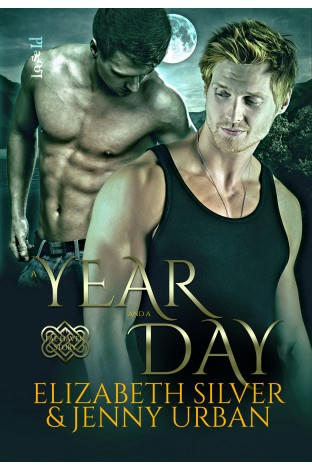 Title: A Year and a Day
Series: Fae Haven #1
Author: Elizabeth Silver & Jenny Urban
Genre: Fantasy, Fae 
Publisher: Loose ID (October 17, 2016)
Length: Novella (110 Pages)
Heat Level: Low
Heart Rating: ♥♥♥♥ 3.5 Hearts
Blurb: Reserved, bookish Ben isn't looking for a relationship. Then he meets Niall, a gorgeous stranger with a knack for avoiding direct questions, and tumbles headfirst into love. Niall is perfect in just about every way, right up until he leaves town for a short trip…and vanishes off the face of the earth. 
A magical being trapped in his own realm, Niall has to fight to come back to this world for the chance to be with Ben. But by the time he gets back, more than a year has passed, and Ben refuses to believe Niall's story of Fae and magic. 
With only a month to woo Ben back and earn a chance at staying here permanently, Niall is willing to try anything to be with the man he loves. Then Niall's world spills over into ours and puts Ben's life in danger, forcing them work together to save Ben before their stolen time comes to an end.
ISBN: 978-1-68252-226-4
Product Link: http://www.loose-id.com/a-year-and-a-day.html
Reviewer:  Lisa
Review:  Ben is a teacher of folklore and very reserved in nature, whereas Niall is fae.  In the fae's life they are given one year to go to the human world and see whatever they want.  Time is different in each world, where three days here is about a year in Niall's world.  They are immortal creatures that love to play pranks and jokes.  
When Niall comes across to the human world he is finding it a bit boring.  That is until he comes across Ben striding out of the water.  His heart takes a beat and he wants whatever he can get with this man, however going home to inform his family that he wants to stay with Ben leads into disaster.  Disaster meaning he was gone from the human world for almost a year.  Ben has no need for a man like that, but then again he has no real clue what Niall truly is.  Then the huntsman catches his scent and the paranormal world is brought right out into the open.  
I came across these authors at different times, having read a book or two by these women made me decide to give this story a chance.  However I have got to say that it was one hell of a weird story.  It starts off a bit fast and things are moving at a great pace, but then it felt like they rushed the rest of it.  It doesn't make the story change but it just made it feel off.  I am still not too sure I liked it or not, but will reserve judgment for a later time.  I can't imagine these two worlds in this way and I am not a big fan of the fae, but I did get a kick out of them
So I am off to read book two in this series and hope to see these two in the next story even if it is just a peek.