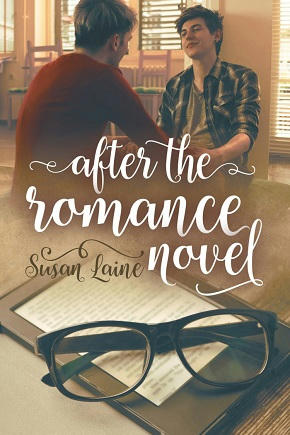 Title: After the Romance Novel
Author: Susan Laine
Genre: Contemporary, New Adult, Friends to Lovers
Length: 63 Pages (short story)
Publisher: Dreamspinner Press (22nd February 2017)
Heat Level: Low
Heart Rating: ♥♥♥♥♥ 5 Hearts
Blurb: Romance novels always end with a happy ever after. Right?
Evan and Adam are best friends, but they don't know everything about each other. For one thing, Adam doesn't know Evan writes and publishes gay romance novels until he discovers one while snooping on Evan's laptop.
This revelation changes their relationship in ways neither could've imagined. Adam's reaction to reading Evan's stories is not what he expected, nor is the new way he's looking at his lifelong pal. After all, Adam is straight, or so he's always thought, and that is what Evan believes about Adam as well.
When Evan admits he might be bisexual, Adam suggests he try dating girls to find out for sure, but when Evan follows his advice, Adam is caught off guard by his feelings of jealousy. And when the date proves Evan isn't bisexual, but gay, Evan's request that Adam find him a guy might be the last straw.
How can Adam admit he wants that guy to be him? His epiphany will either end their relationship—or change it into something wonderful in their very own friends-to-lovers romance. 
ISBN: 978-1-63533-275-9
Product Link: https://www.dreamspinnerpress.com/books/after-the-romance-novel-by-susan-laine-8177-b
Reviewer: Veronica
Review: Oh WOW. I absolutely love Friends to Lovers stories and this author nailed it for me. I've never read from this author before, but if all of her books are like this. I'll be reading more of her works. From beginning to end, she was consistent with her story line and it didn't veer off into anything else, but the two main characters. The title however threw me for a loop, and was looking for something else entirely, but she kept me hooked from the beginning, and that's a plus for her and me.
Evan and Adam have been friends like forever it seems and they've always had each other's back. They live next door to each other and enter through each bedroom from a branch on a tree between the two houses. One morning as usual, Adam climbs through Evan's bedroom and got the shock of his life when he snooped, and saw the contents on his best friend's laptop. Evan writes gay romance stories.
In some parts of this story, I was really wondering if these two friends would end up together with all the obstacles that they went through when Evan decided that it was time that he started dating. He always thought of himself as being bi-sexual, but after his first date, he knew without a doubt that he was gay. That is when everything changed between him and Adam. I was so rooting for the two of them to hook up, but what Adam did left Evan feeling very hurt, and it seems as if he had lost his best friend for life.
I would definitely recommend this light short story for anyone that is looking for friends to lover's stories.