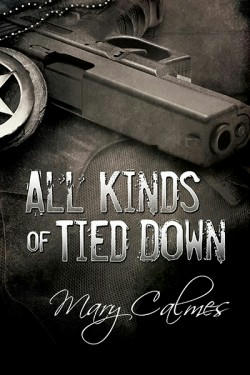 Title: All Kinds of Tied Down
Series: Marshals 01
Author: Mary Calmes
Genre: Contemporary, Military, Mystery, Crime, Suspense 
Length: Novel (290 Pages)
Publisher: Dreamspinner Press (July 4, 2014)
Heat Level: Moderate
Heart Rating: ♥♥♥♥♥ 5 Hearts
Blurb: Deputy US Marshal Miro Jones has a reputation for being calm and collected under fire. These traits serve him well with his hotshot partner, Ian Doyle, the kind of guy who can start a fight in an empty room. In the past three years of their life-and-death job, they've gone from strangers to professional coworkers to devoted teammates and best friends. Miro's cultivated blind faith in the man who has his back… faith and something more. 
As a marshal and a soldier, Ian's expected to lead. But the power and control that brings Ian success and fulfillment in the field isn't working anywhere else. Ian's always resisted all kinds of tied down, but having no home—and no one to come home to—is slowly eating him up inside. Over time, Ian has grudgingly accepted that going anywhere without his partner simply doesn't work. Now Miro just has to convince him that getting tangled up in heartstrings isn't being tied down at all. 
ISBN: 978-1-63216-065-2
Product Link: https://www.dreamspinnerpress.com/books/all-kinds-of-tied-down-by-mary-calmes-810-b
Reviewer: Lisa
Review:  I first came across Mary Calmes when she wrote about Kage and Jory in A Matter of Time series.  There is something about a man with a gun that just wets my appetite and gives me what I want right off the bat.  The way she puts together a story just seems to captivate me throughout the whole story, so when I came across this series I knew it was going to be the same.  To top it off Kage is our sexy men's boss.
With this story you have two very sexy US Marshals who start out partners at work but it soon builds into something very steamy.  Miro had wanted his partner for so long, but damn that man is straight.  However when Ian comes home from a tour, it soon becomes apparent that the man was more into Miro then he thought.  The first half is their partnership at work and the trouble these two seem to get into, and then it changes into something I really loved.  
This story is told mainly from Miro's perspective and you really do get to know a man when you are listening pretty good to what they are saying and wishing.  Ian is a big hit for me, because not only is he a US Marshal but he is also special forces, but there is a side that many do not get to see but his partner.  I have come across many stories where the characters are law enforcement, but you don't really see that many with US Marshals so it was a big hit for me.       
What made me laugh the most was at the beginning the others around were jealous that a newbie got to work with special forces, but then it turned to pity because Ian was the type to run headlong into danger and Miro just had to follow.  Which meant Miro would usually get banged up pretty good.  
This story is so filled with actions, suspense, danger and some hot sex that your mind will be blown away.  I loved the two young witnesses and can't wait to see if they get their own story in the future.  I had a lot of fun reading this and look forward to reading the next book.  I would definitely recommend this story to anyone who loves sexy men who are armed to the teeth.