Hiya guys, we have Luca Domani popping in today with his upcoming release An American in Venice, we have a short guest post from Luca and a great exclusive excerpt, so check out the post and enjoy! <3 ~Pixie~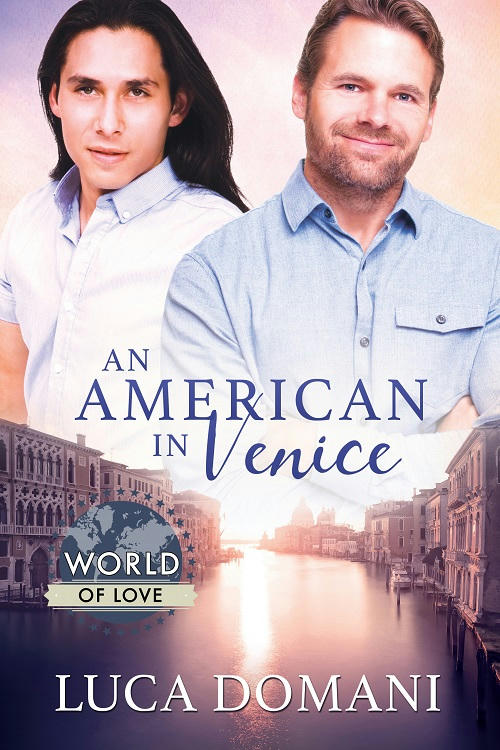 An American In Venice
(World of Love 15: Italy)
by
Luca Domani
Tom has always been steady and predictable—a formula he's sure will lead him to success in his career. When his method fails him and he loses his job, he throws caution to the wind for the first time in his life and books a European holiday.
Maybe Tom shouldn't be surprised that Cupid's arrow finds him in one of the most romantic cities in the world: Venice, Italy. When he encounters Giovanni working in the family pizzeria, it's lust at first sight. Their time together touring the city is so magical it feels like a dream. But Tom is shy while Giovanni is charming and flirtatious. Tom has a newfound freedom with his unemployment, while family burdens weigh heavily on Giovanni. Add culture differences and miscommunication into the mix, and their brief romance might fade as quickly as the beautiful dream it resembles.
Release date: 19th July 2017
Pre-order: Dreamspinner Press
Luca Domani!
Ah, Venice! When we think of that romantic city on the water, gondolas might first come to mind. We might also think of Piazza San Marco and the opulent palazzi lining the Grand Canal. Accompanying these beautiful sights, there are also the millions of tourists who come to admire them. In the summer, the city is hot and crowded.
An American in Venice features a quieter and cooler version of the city. In the winter, the tourists are mostly gone and the weather is wet. The city is peaceful and gray, and no less beautiful. There is a chance you might get caught in acqua alta, when the water rises and parts of Venice are flooded. And perhaps, if you are as lucky as Tom, our eponymous American, you may even fall in love with a handsome Venetian.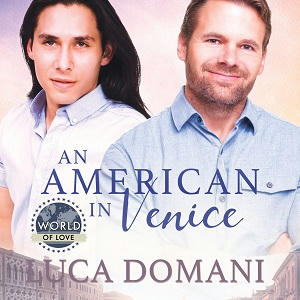 Excerpt!
They ended up walking all the way to Piazza San Marco. On the way they had gelato—stracciatella for Giovanni, and nocciola for Tom. Tom followed Giovanni, grateful not to have to navigate the calli by himself in the dark. Some passageways were so narrow that Giovanni and Tom brushed shoulders as they walked side by side. Tom noted that Giovanni was only an inch or so taller than he was, although his slim build made him seem even taller. He thought of how convenient it was that they were similar in height, especially for certain activities, then chided himself for thinking too far ahead. He tried to focus on the moment. He was in one of the most beautiful cities in the world, with a gorgeous Italian, on a misty, romantic night.
Giovanni stopped at a small bar to pick up a couple of bottles of beer and slices of bruschetta to go. Tom wondered where they were going. He was surprised when they suddenly stumbled into the wide piazza, as if they had passed through a portal. The water still puddled here and there, and the passerelle, the raised platforms that were used to provide a dry path during acqua alta, remained where they had been set across the width of the piazza. The basilica's domed and familiar silhouette was at the far end, and the campanile stood sentinel to its right. Tom had only ever visited in the summer, when the crowds were thick and the tables were full of tourists, and the sounds of the string quartet at Café Florian sweetened the air. Right now they were the only people there, and the moon shone through the tatters of cloud, reflecting on the water.
Giovanni grabbed Tom's hand as they walked into the piazza. If the place had ever held any magic before for Tom, that was eclipsed by what he was experiencing in the moment.
"I love it when it's empty," Giovanni said, breaking the silence. His voice was loud in the quiet of the evening. He still held Tom's hand. "It's the only time I can stand coming here."
"It's beautiful," Tom agreed. "Thank you for taking me here."
"It's the first time," Giovanni said softly, gazing up at the moon. "The first time I've brought someone with me."
About Luca!
Luca Domani has been writing stories since childhood. Although he has a doctorate in engineering, he has never given up on his dream of being a writer. He adores science fiction and is partial to postapocalyptic epics with zombie hordes, but at heart, he is a hopeless romantic. Luca is married to his high school sweetheart, who is his muse and the love of his life. They reside in Massachusetts with their dog and cat. An American in Venice is his second publication outside of a technical journal.
email: gianluca.domani@gmail.com