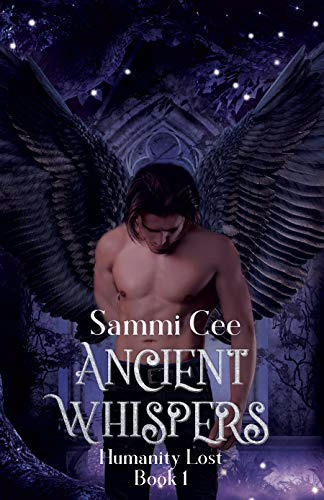 Title: Ancient Whispers
Series: Humanity Lost 01
Author: Sammi Cee
Genre: Fantasy
Length: Novella (128pgs)
Publisher: Sammi Cee (November 8, 2018)
Heat Level: Moderate
Heart Rating: 💖💖💖💖💖 4 1/2 Hearts
Blurb: Denny Langer feels like a man without options. Pretty sure that his uncle is exporting something far worse than drugs, but with no one else to turn to, he's ready to either sacrifice his soul or end his life as he knows it.
Azorarth is the fallen angel appointed to guide Denny toward the right path. After centuries of it being paranormal law to hide his true identity, he's conflicted when he meets Denny and senses that he is his suflet mwenza, or soul-mate.
Will Azorarth go against the laws of his realm to reveal his true nature to Denny and save his life, as well as countless others, or will he ignore the voice of the Ancient One and stay hidden?
Is humanity really lost or will salvation come one paranormal/human HEA at a time?
*This is intended for ages 18+
ISBN: B07JZSRBS1
Product Link: Amazon US | Amazon UK
Reviewer: Shorty
Review: A sweet story about two men who struggle with different aspects of their lives.
I loved how Az was so patient and tender with Danny. It broke my heart the things these two went through at times. The actual history of why supernaturals were created was fascinating and intrigued me.
Though this story seemed way to short it still had enough to satisfy me with the plot and the characters details. I enjoyed the story and am looking forward to reading the next in the series.
Great read.