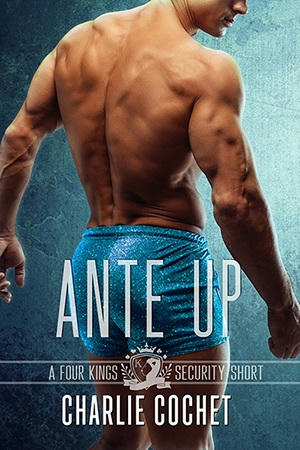 Title: Ante up *Free Story*
Series: Four Kings Security 02.5
Author: Charlie Cochet
Genre: Contemporary
Length: Short Story (41 Pages)
Publisher: Charlie Cochet (August 28, 2018)
Heat Level: Low
Heart Rating: 💖💖💖 3 Hearts
Blurb: Look but don't touch. That's the rule concerning dancers at Sapphire Sands, the prestigious members-only nightclub where Seth works at as a bartender. Seth has never had a problem following the rules until the day one of the dancers falls into his lap. Literally.
Kit loves his job dancing at Sapphire Sands. Every day his job brings him closer to his dream of opening his own dance studio, so risking it all on the hot bartender is not an option. Or is it?
ISBN: N/A
Product Link: Charlie Cochet Free Reads
Reviewer: Lisa
Review: Frank keeps a strict rule at the club, no dating coworkers or club members. Keep your hands to your self and you stay. However Seth and Kit are about to break that rule.
Short, sweet and sexy are just a few things about this story. I would have love to know more about Frank and his rules but it was still a good read. I am not nor have I ever been a fan of short stories. This gives you a taste when you want a full meal. It is a good story for when you are taking a break or just need a hot story to read.