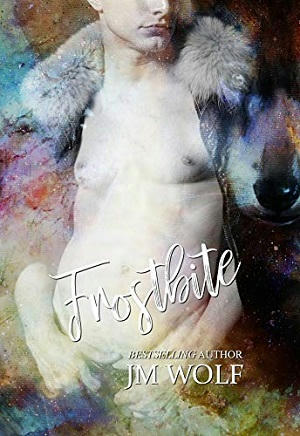 Title: Frostbite
Series: The Gifted Ones 01
Author: J.M. Wolf
Genre: Paranormal
Length: Novel (256pgs)
Publisher: Encompass Ink (October 24, 2018)
Heat Level: Moderate
Heart Rating: 💖💖💖💖💖 5 Hearts
Blurb: Cyrus Winters, an omega wolf and an ice mage is dangerous to others. After running away from his birth pack at an early age, Cyrus traveled from place to place in hopes of finding a pack that would accept him. But once they realized that he was no ordinary omega wolf, they quickly turned their backs on him. Alone and shunned as a monster, Cyrus has kept himself hidden at the top of the Wichita Mountains where nobody would reach him. That is, until he hears the song of his fated mate.
Dorian Lovell once had the family he'd always dreamed of, but after the death of his son, his whole world fell apart. When he begins having dreams about a white wolf at the top of a mountain, howling for him, Dorian realizes that he may have found his fated mate. Joining his friend Tobias' pack in the Wichita Mountains, Dorian sets out to find the wolf from his dream; but once he meets Cyrus, he quickly realizes that mating with the frosty omega won't be as easy as he thought it'd be.
An omega with a heart of ice, and an alpha who's destined to thaw him out. With a threat to Cyrus' life approaching, the two must learn to come together as one. Can Dorian's pack accept the gifted omega, and can Cyrus trust his life and future to his new pack, and the alpha the fates paired him with?
TRIGGER WARNING:
This book contains sexual and verbal adult content, MPREG, violence, bloody gore, death, and talks of loss and heartache. No babies were harmed in the making of this book.
*** This is Book 1 in the series, but can be read as a standalone story – no cliffhangers ***
ISBN: B07JNC6HVS
Product Link: Amazon US | Amazon UK
Reviewer: Shorty
Review: I loved this story about Cyrus and Dorin. Dorian and Cyrus are both lonely. They hear the call of the other and Dorian goes in search of his mate. When he finds him he realizes Cyrus is more than just an omega he's an ice mage as well. There are those who will stop at nothing to see Cyrus dead.
Dorian does his best to protect his mate from all threats as they get to know one another. I loved all the characters introduced in this story as they all had a role in playing bringing this story to life. Wonderfully written descriptions and scenes added depth and wonder to an amazing plot.
I cannot wait to read the next installment in the series to see what happens.
Fantastic read.