Hiya guys! We have Rhys Ford visiting today with the tour for her new release Back In Black, we have a brilliant guest post from Rhys which has an excerpt and an amazing audio excerpt of Nothing Else Matters: Part Eight, and we have an amazing $25 GC giveaway, so check out the post and enter the giveaway ❤️ ~Pixie~ PS keep an eye out for my review coming soon!
Back In Black
(McGinnis Investigations 01)
by
Rhys Ford
There are eight million stories in the City of Angels but only one man can stumble upon the body of a former client while being chased by a pair of Dobermans and a deranged psycho dressed as a sheep.
That man is Cole McGinnis.
Since his last life-threatening case years ago, McGinnis has married the love of his life, Jae-Min Kim, consulted for the LAPD, and investigated cases as a private detective for hire. Yet nothing could have prepared him for the shocking discovery of a dead, grandmotherly woman at his feet and the cascade of murders that follows, even if he should have been used to it by now.
Now he's back in the dark world of murder and intrigue where every bullet appears to have his name on it and every answer he digs up seems to only create more questions. Hired by the dead woman's husband, McGinnis has to figure out who is behind the crime spree. As if the twisted case of a murdered grandmother isn't complicated enough, Death is knocking on his door, and each time it opens, Death is wearing a new face, leaving McGinnis to wonder who he can actually trust.
Audio release date: 13th February 2020
Pre-order:

Rhys Ford!
Hello! And thank you for joining the Back in Black Blog Tour! My name is Rhys Ford and I will be your guide through this serialized short story featuring Cole McGinnis and his trip to the altar. Hit each blog stop for the next bit of the story AND as a special bonus, Greg Tremblay has narrated each "slice of cake" on this wedding tour!
As some of you know, Cole McGinnis is a former LAPD detective who found love again in a romance suspense series called the Cole McGinnis Mysteries or as I call it, the Dirty Series. It is there he meets and falls in love with Kim Jae-Min, a Korean photographer with a few secrets of his own and a tiny black cat with an attitude. I left Cole and Jae in quite a happy place five years ago in Los Angeles with a promise to come back and "reboot" Cole's life in a mystery series.
(You can find the first series here at Dreamspinner Press, including a special free bonus collection of shorts in both ebook and audiobook format) 
If you've already met Cole, well then I am happy to announce he's back and well, while things are a little bit different… and he's a hair older… his life is still as insanely jam-packed with action and more than few mysteries to figure out. All of the old gang is back along with a few new faces and I hope you all enjoy Back in Black as much as I enjoyed writing it.
And as if Cole wasn't fun enough to write, Greg Tremblay is back as Cole McGinnis in the upcoming audiobook which is supposed to be out on Feb 13th! If you aren't a part of my Facebook group or follow me on social media, please be sure to find me to learn about any future stuff. Because 2020 is going to be a hell of a lot of fun.
Giveaway!
As always, there is a giveaway! Please comment, rafflecopter or however this blog chooses to run their giveaway, Please Please enter to win a $25 Gift Certificate to the online store of your choice!
Nothing Else Matters: Part Eight
Audio Snippet Link:
  https://rhysford.files.wordpress.com/2020/01/pt8_bib_wedding.mp3 
Excerpt!
I didn't remember much past seeing Jae walk out of the alcove with Scarlet on his arm. The world faded away, leaving me in a swirl of stars with the rushing song of the sun roaring in my ears. My feet found their purpose, gliding Claudia along an aisle lined with familiar faces and beneath massive circular pendant lights draped with a waterfall of crystals, flashing rainbow streams suspended high above our heads. Jae walked in front of us, Scarlet whispering something into his ear and his laugh carried back to me, wrapping its silvery threads around my heart and squeezing me tight.
It dawned on me right then that I'd be hearing that laugh for the rest of my life and in that moment, I could only dream of it carrying me beyond, cradling me even as I dropped from existence. We would be there in each other's twilights, probably bickering over the butter dish being left on the counter or being put into the fridge, something we disagreed vehemently about. As much as I hated cold butter, he'd won that argument after I'd left the butter out and eventually the sun found it, slagging it across the counter and onto the floor.
Mike was right. Sometimes it was the little arguments that made the big issues seem small. And the easy solutions like a second butter dish wasn't something actually worth doing because it was fun to tease one another… and Jae's neck tasted delicious when smeared with the butter I got all over my hands from cleaning up the counter.
There were deep pink rose petals flung into small piles along the aisle, evidence my very young niece took her first familial obligation very seriously. Faces on either side of me were a blur, my existence focused on three points; the minister at the end of the walk, Claudia's hand clenching my arm and Jae's back as he led me towards our marriage.
I wasn't sure if the end of the aisle came too soon or took forever to get to but the last row of chairs were there and I accepted a hug and kiss from Scarlet and Claudia before helping them sit. Turning back around, I was unsure of what I was supposed to do next then Jae held his hand out to me, his smile wistful and sweet, and my path became quite clear.
His fingers were warm, the embrace of his hand on mine a reassuring caress and we both took the final steps towards what awaited us.
There were murmurs from the men we'd chosen to stand up with us, witnesses to our greatest folly and deep love telling us they were proud of us, happy we were there and in Ivo's case, congratulating Jae on finally dragging me in front of a preacher.
Then no one else existed but the man I'd fallen head over heels for. Standing in the rolling drone of the minister's opening, I ran my knuckles across his cheek, luxuriating in the lush feel of his skin on mine. Jae tilted his head, brushing his mouth across my finger. His lips parted, curving into a ghost of a smile then he bit me, lightly digging his sharp white teeth into my flesh.
"Hey." My protest was weak but he let go, giving me a full grin. "Worse than your cat."
"Our cat," he corrected then his gaze softened, his reserve melting away, stripping Jae down to a vulnerability normally only seen when we were alone. This was the man I held during tragedies and triumphs, the one who shook in my arms when we made love and the one who I wanted to spend the rest of my life with. "Saranghae-yo, agi."
It was so silly. An odd phrasing of formal and nonsensical Korean mashed up and molded by my utter lack of language skills and well-meaning intentions. But it was ours. Much like the cat, the dog, the house and all of the people surrounding us. We were taking a step towards our future, a new set of adventures we'd face hand in hand.
And I for one couldn't wait.
"Saranghae-yo, agi." I leaned down to touch my forehead to his, holding the world at bay for just a moment longer. The preacher's question punched through the serenity we'd woven around us and I whispered into the space where only Jae and I existed, "For as long as we both shall live…and beyond…I do."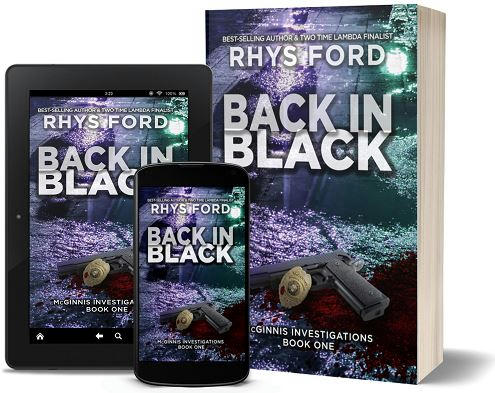 About Rhys!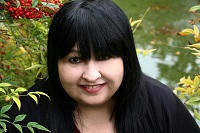 Rhys Ford is an award-winning author with several long-running LGBT+ mystery, thriller, paranormal, and urban fantasy series and is a two-time LAMBDA finalist with her Murder and Mayhem novels. She is also a 2017 Gold and Silver Medal winner in the Florida Authors and Publishers President's Book Awards for her novels Ink and Shadows and Hanging the Stars. She is published by Dreamspinner Press and DSP Publications.
She's also quite skeptical about bios without a dash of something personal and really, who doesn't mention their cats, dog and cars in a bio? She shares the house with Harley, a grey tuxedo with a flower on her face, Badger, a disgruntled alley cat who isn't sure living inside is a step up the social ladder as well as a ginger cairn terrorist named Gus. Rhys is also enslaved to the upkeep a 1979 Pontiac Firebird and enjoys murdering make-believe people.
Rhys can be found at the following locations:
Website | Facebook | Twitter | FB Group 
For more information and to keep track of his upcoming releases, visit Greg Tremblay at: https://gregtremblay.com/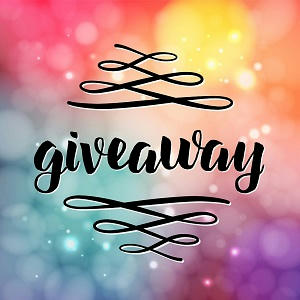 Giveaway!
Win a $25 GC!