Hi peeps! We have Kat Cassidy popping in today with the tour for her new release Back Streets, we have a brilliant guest post with an exclusive excerpt and a fantastic giveaway so check out the post and enter the giveaway! ❤ ~Pixie~
Back Streets
by
Kat Cassidy
"Where there's nothing to gain and everything to lose."
It's modest, but after a lifetime spent barely holding on, former car thief Peter Bauer is proud of what he's managed to achieve. He's got a legal, legitimate job as a mechanic, a firm grasp on his addictions, and a steady relationship with Nikos Petrakis—stable, handsome, and recently widowed. Nothing is going to upset that, not the ever-present memory of Nik's wife, not the claustrophobia Peter is starting to feel trapped in domestic bliss, not even the sudden reappearance of Peter's ex—the sexy and dangerous Stavros Giannopoulos.
But when Nik's daughter goes missing, Peter will be forced back into the seedy underbelly of the LA crime world, where anything goes. Can his and Nik's relationship survive? Can Peter?
Backstreets is the second book in Kat Cassidy's Hot Wire series which contains themes of crime, suspense, family drama, hurt/comfort, dark humor, addiction, and abuse. It should not be read as a standalone.

Kat Cassidy & Exclusive Excerpt!
Thanks for having me! I'm so excited to get to share some insight into the Hot Wire series in general and Backstreets specifically. Backstreets (Hot Wire #2) is a continuation of Peter Bauer and Nikos Petrakis' story—a romance sparked between a career car thief and an honorable mechanic.
I truly believe the mark of any author is that we are all voracious readers and consumers of media long before we ever set pen to page (or fingers to keyboard, in this case.) The Hot Wire Series was birthed from my love of dark comedies, neo-noir thrillers, and HEA romances. I think the common thread throughout at least the latter two of those genres is strong characterizations.
So, that's going to be the focus of this blog tour. Let's spill some tea about my characters, lovelies. Oof, I love me a good villain, fam, and the Hot Wire series is no exception. Night Moves introduced us to Erik Bauer, Peter and Olivia's manipulative and controlling father. He's definitely the Big Bad of the series, and while I could devote a whole blog post to him, I'm instead going to touch on one of Backstreet's villains, Stavros Giannopoulos.
Stav is Peter's ex, and their relationship was a direct result of Erik's meddling—he sent Peter in to get close to Stav to find out more about the movements of the Giannopoulos crime family. Peter spent the better part of two years being strung out and strung along by Stav before barely getting out alive.
They end up crossing paths again at Stavros' father's funeral early on in Backstreets, and Peter is left shaken by the encounter.
—
Stav made eye contact with Peter, curious at first and then carefully guarded. He looked somehow exactly the same and entirely different from what Peter remembered. There were threads of silver beginning to show in his thick dark hair. He'd grown a close-cropped beard.
Stavros shook then slowly zipped up his pants.
Peter was the one who'd had the last word when he'd ended it, so he was pretty sure the burden was on him to speak first now. "Hey." It came out too stilted and a little throttled, so Peter tried again. "Sorry about your dad."
Stavros' eyes were red, but that might have just been from whatever shit he was currently on. He gave Peter a tight smile. "Well, Pete, Demitri wasn't exactly father of the year. You know that." He washed his hands in the sink, watching Peter in the mirror's reflection.
Peter laughed ruefully. "There's been a lot of that going around."
Where Erik had been overbearing, Demitri had been absent, where Erik had been critical and cruel, Demitri had been distant and neglectful toward his youngest son. When they were together, Stavros and Peter had connected over being the least-favorites. Stavros turned and smiled at him then, genuinely this time. It transformed his whole face and stirred something dangerously in Peter.
"Thanks for coming out today," Stav said.
Peter waved it off, wondering what the most graceful way to back out of the washroom without unzipping his pants was. He'd fucking hold it for an hour if he could end this right now. He hadn't been prepared for the full force of Stavros looking at him like that.
"I mean it," said Stav, thwarting his escape plan by putting his hand on Peter's shoulder. Even that felt far too intimate. "It's good to see you, Pete. I'm glad you came."
"That makes one of us," Peter said, stepping back. He pushed his fingers through his hair, creating some space between them. "It's a bit of a hostile room out there."
Stavros was undeterred; he slid his hand across the back of Peter's neck and pulled Peter closer to him until they were almost forehead to forehead, possessive and familiar. "Hey, don't let anyone give you shit for what you did. That bastard got what he deserved. There isn't one of those hypocrites out there that wants Erik walking the streets again."
Peter lingered there for a moment, feeling Stav's heat against him, remembering what it was like to have Stavros riled up on his behalf. Stav couldn't go in less than full intensity on anything. It was how he fucked up most things, but Peter hadn't forgotten how warm you could feel with that fire at your back.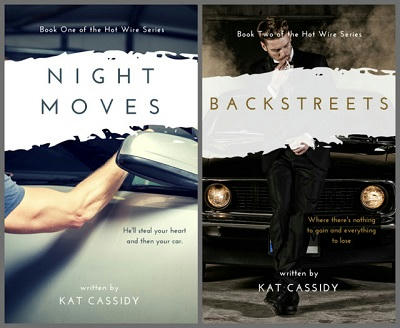 Hot Wire series!!
Night Moves (book 01)
.•.•.**❣️ Amazon US | Amazon UK ❣️**.•.•.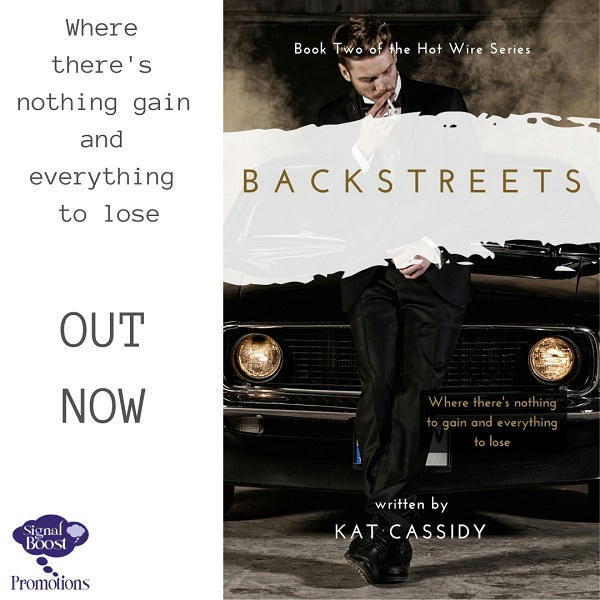 About Kat!
Kat Cassidy is a romance novelist. She's a dreamer, a schemer and, above all else, a believer in true love. She lives in Canada with her husband and her lovable mutt, and she likes loud guitars and strong IPAs.
Her debut novel, Night Moves, has been nominated for the Goodreads M/M Romance Members' Choice Awards Best of 2018 for both Best Debut Book and Best Main Character.
Instagram | Twitter | Facebook | Tumblr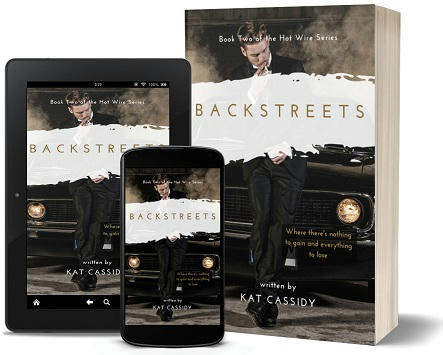 Giveaway!
Win an Ebook of Night Moves!