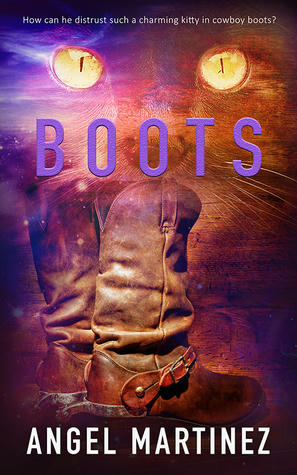 Title: Boots
Author: Angel Martinez
Genre: Fantasy and Fairytales, Paranormal
Length: Novella (92 pages)
Publisher: Pride Publishing (December 6, 2016)
Heat Level: Moderate
Heart Rating: ♥♥♥♥♥ 5 Hearts
Blurb: Willem's lost his job and his boyfriend, and now possibly his mind when his cat calls him a nitwit.
Willem's father never approved of his artistic talents, his choices in life, or the fact that he's gay. When the only thing Horst leaves to Willem is the family cat, he thinks it's his father's last insult from the grave. That is, until the cat starts talking to him.
Though Willem's lost his boyfriend, his home, and his job, Kasha, who claims to be a magic cat, reassures him that all will be well. All he needs is Willem's trust and a good pair of boots. But giving boots to a talking cat has unexpected consequences when odd events ambush Willem at every turn, such as the appearance of a handsome stranger in his arms at night. While he begins to suspect Kasha's plans might be dangerous for all involved, how can he distrust such a charming kitty in cowboy boots?
Reader Advisory: This book contains a scene of flexible autoerotica.
Publisher's Note: This book has previously been released elsewhere. It has been revised and re-edited for re-release with Pride Publishing.
ISBN: 978-1-78651-496-7
Product Link: https://www.pride-publishing.com/book/boots
Reviewer: Shorty 
Review: Such a wonderful story that had me from the start. Willem, upon his father's death, inherits a cat, Puss. With no home or job Willem thinks he is losing his mind when the cat begins talking to him. 
We learn who Puss really is as the story continues. I loved the details that went into this story. From the ex, to the goddess everything had me spellbound. I don't want to give anything away so I'll just say read the book. You won't be disappointed in the least as it has romance, adventure, action, magic and fantasy all woven into one story.
Fantastic read. Highly recommended.