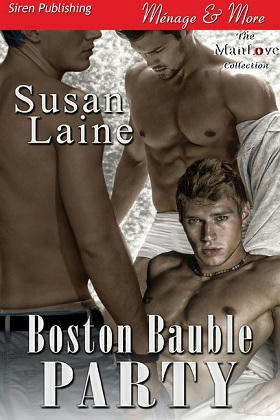 Title:  Boston Bauble Party
Author: Susan Laine
Genre: Contemporary, Ménage, Erotic
Length: Novella (106pgs)
Publisher: Siren-Bookstrand (28th June 2016)
Heat Level: Explicit
Heart Rating: ♥♥♥♥ 3.5 Hearts
Blurb: Liam feels sorely inadequate below the belt. To cheer him up, his roommate and best friend Troy scores for them a special invite to an exclusive and hush-hush Bauble Party held in a classy mansion in one of Boston's upscale districts. When Liam discovers what the fancy soirée is actually about, he gets nervous and insecure, and wants to leave. Troy convinces him to stay by introducing him to Burton, a wealthy, self-made, clean-tech tycoon—who is also an experienced Dom befitting Liam's submissive tendencies. It seems Liam and Burton are a match made in kink heaven. But where does that leave Troy with his secret and unrequited love for Liam? Perhaps an unusual party is exactly what these three men with big hearts need in order to learn that size isn't everything and that they are better off with each other than without.
ISBN: 978-1-68295-367-9
Product Link: http://www.bookstrand.com/book/boston-bauble-party
Reviewer: Prime
Review: I feel I need to write some sort of disclaimer on this one.
If it's romance you're after, then this probably isn't the book for. If you like to read about a sexually explicit night at a sex party, then this is the book for you. I love Susan Laine's writing and have enjoyed most of her books. To some extent I also enjoyed this one, but for me this is something that you really need to be in the mood for since it is high on the sex and low on the romance.
Best friends Liam and Troy are heading off to an invite only sex party, which Troy is adamant that Liam needs to attend. Liam has major self esteem issues because of how his body looks "below the belt", a.k.a. his balls, and is willing to go as far as considering cosmetic surgery. Troy, who secretly loves his friend, doesn't want Liam to mar his perfect body. That is why he is taking Liam to a "bauble party" to meet Burton. Burton himself explains that saying bauble party is much better than hearing teabagging party. Burton has his own imperfections, which makes his particular kink difficult to indulge – until Troy presents the perfect solution in Liam. What ensues is a really kinky three-way.
The romantic in me would have liked fewer details on the sex and would have loved to know about threesome beyond their night together. There is talk of them trying to make a three way relationship work, I just would have liked to have seen it, or had an epilogue to give me a glimpse into possibilities.