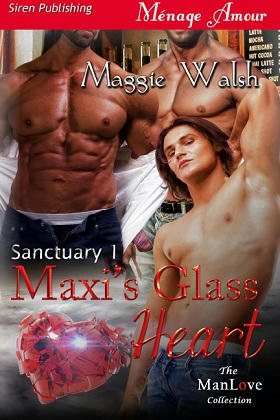 Title: Maxi's Glass Heart
Series:  Sanctuary 01
Author: Maggie Walsh
Genre: Ménage, Paranormal
Length: Novella (153 pages)
Publisher: Siren-Bookstrand, Inc. (February 9, 2017)
Heat Level: Explicit
Heart Rating: ♥♥♥♥♥ 5 Hearts
Blurb: Maxi is a small shifter who has come to Sanctuary in hopes of starting a new life and to find his mates. He is happily surprised when, on the same day, he meets both of his mates: Valor, a very large, sexy fae warrior, and Travis, a gorgeous wolf shifter who is a trainee at the facility in Sanctuary.  
One passionate night together turns out to be a moment of pain for Maxi. Once his mates are done having their fun with him, they immediately take off without giving Maxi a second thought. After a week away, Valor and Travis return from a mission to try to talk to Maxi and apologize for leaving him, but they find that Maxi is not receptive to what they have to say. Maxi takes off, and Valor and Travis follow him.
But they are both confused when they find him and realize Maxi has no memory of them…
Note: This book contains double penetration.
ISBN: 978-1-68295-882-7
Product Link: http://www.bookstrand.com/book/maxis-glass-heart
Reviewer: Shorty 
Review: I have yet to read the angel pack series that this series is connected to. But after reading this book I will read them as soon as possible. I loved this story. It was full of misunderstandings and heartbreak as well as love and changing the way someone treats others. Maxi wants to find his mates as well as stay away from the trouble that is following him. He is happy in sanctuary and meets Valor, a fae warrior and Travis, a wolf shifter, who is training to achieve his goal of becoming something more than what everyone else expects.
After a hot encounter between the three Travis and Valor do something that had me shaking my head in disgust. They both rush out the door right after as they're summoned for a mission. They do not even bother to say goodbye to Maxi or reassure him that he is more to them than a one night stand. Maxi is heartbroken and vows never again. 
Really great story with the right amount of anger, love, suspense and I especially loved the way Travis and Valor grovelled to Maxi, and as well they should have. The mystery part of the book was outstanding.
I loved everything. Highly recommended.