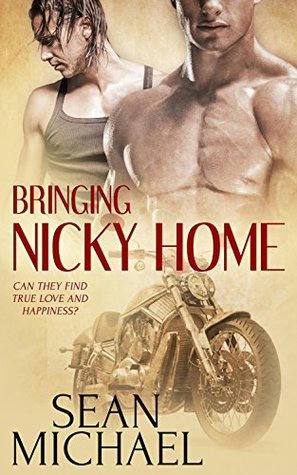 Title: Bringing Nicky Home
Series: The Biker's Pup #3
Author: Sean Michael
Genre: Contemporary, BDSM
Length: Novel (190 Pages)
Publisher: Pride Publishing (3rd January 2017)
Heat Level: Moderate
Heart Rating: ♥♥♥♥ 4 Hearts
Blurb: Can the magic Whip and Nicky found at the Gay Riders' Carnivale continue when they return to their regular lives?
With the Gay Riders' Carnivale over, Whip brings Nicky home with him to his converted warehouse condo in Ottawa with the hopes that what they started at the Carnivale will grow into something they can both live with forever.
All is going well, the two of them learning more about each other and playing hard between Whip's returning to work as an EMT and Nicky finding a job at a coffee shop.
When Nicky's former master, the abusive Dirk, steps back into Nicky's life, it threatens their very lives. Can Whip and Nicky survive both real life and Dirk?
ISBN: 978-1-78651-521-6
Product Link: https://www.pride-publishing.com/book/bringing-nicky-home
Reviewer: Veronica
Review: I'm not too familiar with this author's work, and I didn't read the previous two books in this series to know the circumstances about Whip and Nicky and how they met. From this story, it seems that the last Master that Nicky had, was very abusive and when he met Whip, he decides to go live with him. Although Nicky is living with Whip he wants a job, to help make a contribution in the relationship.
He still wakes with nightmares from when he was being abused and treated badly from his previous master. Whip tries to convince him that he's safe and no-one will hurt him, once he's there. Whip and Nicky's relationship is going smoothly, yes they're getting to know more about each other. The sex scenes are super hot, and I love the way that Whip keeps reassuring Nicky that he's doing a good job of taking care of him and their home. Whip is an EMT who loves his job, but during the day when he's at work, he misses Nicky like crazy.
Things come to a hit when Nicky gets a job working in a Café close to home, and a few days later, Nicky sees his old master Dirk, and messages Whip to let him know. His old master wants him back and will hurt Nicky as much as he can to get him back. Days later, Whip and Nicky are attacked by Dirk and his buddies. Hopefully the Police are called and Dirk and his friends are arrested for assault, and Whip and Nicky won't have to keep looking out for him.  Granted this book can be read as a stand-alone, but I would recommend anyone reading it, to read the previous ones in this series before they read this one.