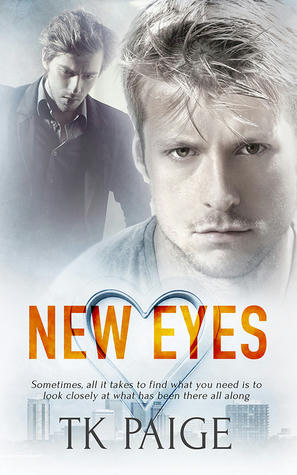 Title: New Eyes
Author: TK Paige
Genre: Contemporary
Length: Short (52pgs)
Publisher: Pride Publishing (27th December 2016)
Heat Level: Low
Heart Rating: ♥♥♥♥ 3.5 Hearts
Blurb: Sometimes, all it takes to find what you need is to look closely at what has been there all along.
Roommates Jed and Doyle have been best friends since meeting in college. They have supported each other through all their ups and downs. Now that they've graduated and are starting new jobs, they have no intentions of letting that change anything. Doyle is everything Jed isn't—smart, cute and active at the LGTB center. Jed has always looked out for his friend and been there for him. They have plans and an amazing friendship, everything planned out to the smallest degree.
Any changes could make it all go off the rails. So why can't Jed get over how annoying he finds Doyle's ex turned friend, who seems to be around way too often? Why can't he stop noticing Doyle in new ways?
If Jed doesn't take a risk, he could miss what's been there all along.
ISBN: 9781786515100
Product Link: https://www.pride-publishing.com/book/new-eyes
Reviewer: Veronica
Review: This is a first for me reading from this author, and I'll be looking for more stories from this author. I love reading Friends to Lovers stories, and I also love the interaction that's going on between the two characters. This story reads from Jed's point of view about his feelings towards his best friend, as a friend, and his everyday life.
Jed and Doyle have been best friends since College, and into adulthood, they've not let anything or anyone come between their friendships. Doyle, has been in love with Jed for years, but haven't told him anything, and Jed doesn't see or know it. I love when he starts to realize the enormity of his developing feelings towards Doyle, and the jealousy when he thought Doyle was hooking back up with this ex that hurt him. I love the flow of the story line when they both realize that they love each other, but I hated that as soon as the relationship between them starts to show promise. The author ended it.
I would recommend this story to anyone asking for a quick read as a Friends to Lovers story.