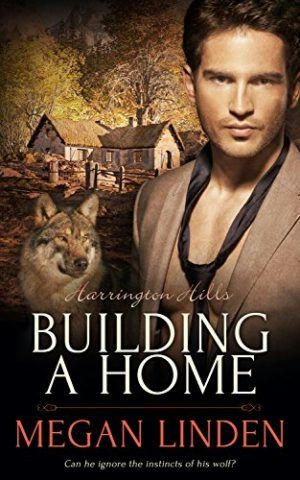 Title: Building a Home
Series: Harrington Hills 02
Author: Megan Linden
Genre: Paranormal
Length: Novella (128 Pages)
Publisher: Pride Publishing (October 11, 2016)
Heat Level: Low
Heart Rating: ♥♥♥♥♥ 4.5 Hearts
Blurb: Dating a younger guy wasn't anywhere in Zack's plans, but can he ignore the instincts of his wolf?
Zack Harrington noticed David Dewitt the first time the guy showed up in Harrington Hills, but their first meeting was far from perfect. A few months later Zack still can't forget about him, and now when the two of them belong to the same pack, their paths cross even more. The problem is, David is barely twenty-two and Zack still remembers how stupid he was at that age.
David knows he's young, but he's tired of hearing about it all the time. He's not a kid and he hates being treated like one, even—or especially—by the hot deputy sheriff. But as they get to know each other better and the sparks between them turn hotter, David's willing to leave that behind.
Can they move past the age difference and their own personal hang-ups?
Or will they ultimately fall into a trap of miscommunication and hiding?
ISBN: 978-1-78651-466-0
Product Link: https://www.pride-publishing.com/book/building-a-home
Reviewer: Lisa
Review: Each book in the Harrington Hill's collection features a new romantic couple. To enjoy the overall story arc and crossover characters, I would recommend reading the series in sequential order.  
I have been reading romance and paranormal's for over 30 years and can honestly say that I love a good paranormal romance more than any other kind of story.  It was not until 5 years ago that I started read m/m romance stories.  There is just something about them that pulls me in faster than any other story.  Now usually there is fighting and danger, so this story was peaceful and really different.  If it wasn't for the fact that they did change shapes in the story I would have believed it to be a contemporary story.  So it was a nice change to the same old, same old.
Zach is about eight years older than David, and he sees that a relationship between them might not be so good.  But damn he just can't keep his eyes off the man.  Ever since he came into town with his brother to join the pack, he has been staring at the man.  Now in this one there is no talk about fated mates or mate's period.  Well there is but not the way one would expect.  Zach is a tough cop in a small town that is surrounded by werewolves and humans.  They seem to co-exist like any other town.  So he has to figure out what to do with his attraction to the sexy wolf.
David is very young, and has been given a hard time with it by his brother, his bosses and customers.  However now he is the boss and he is still being treated like the kid.  Even the deputy is doing it, but damn David wants that man.  So read the story if you want to see what happens with these two men.
This story is perfect for when you are trying to take a break or when you just need the sun to shine for you. It caught my attention from the moment I started reading and kept it all the way to the end. It also gave me everything I could want in a book. I can honestly tell you that this is going to be one of those types of series. One that I will have to read over and over.
I love the way all the feelings they felt was involved in this story. It was the perfect story for me and I loved it. I can't wait to read the next story.