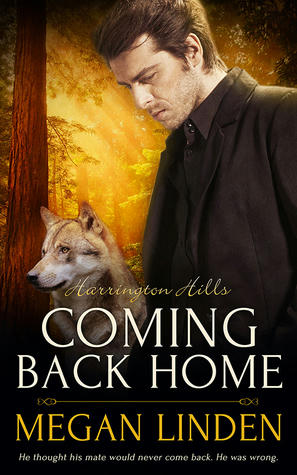 Title: Coming Back Home
Series: Harrington Hills  #3
Author: Megan Linden
Genre: Paranormal
Length: Novella (85 Pages)
Publisher:  Pride Publishing (February 14, 2016)
Heat Level: Low
Heart Rating: ♥♥♥♥♥ 4.5 Hearts
Blurb: He thought his mate would never come back. He was wrong.
Jack Harrington told everyone who asked that he'd gotten over Connor a long time ago. And while he still hasn't managed to convince himself, he moves on with his life. He doesn't have a choice. Connor is gone for good.
Or is he?
Connor Warden didn't plan to ever come back to Harrington Hills, but with an infant in tow, that is exactly what he does. His daughter needs a pack and he is going to give it to her.
When Jack and Connor's lives literally collide again, will they be able to go back to what had been and find their connection once more? Or is the divide between them too deep to ever fully get over? 
ISBN:  978-1-78651-527-8
Product Link: https://www.pride-publishing.com/book/coming-back-home
Reviewer: Lisa
Review:  Each book in the Harington Hill's collection features a new romantic couple. To enjoy the overall story arc and crossover characters, I would recommend reading the series in sequential order.  
 Connor and Jack had something back when they were kids, but then Connor decided he really didn't want to live in Harrington Hill's any longer.  It had broken Jack's heart and left him reeling.  He had always thought Connor was his mate, but now he didn't know heads or tails.  Now that Connor was back and with a baby in tow, he was thrown for a loop.  
Connor loved his mother but when she passed, things got tough with his father.  He wanted out and away from the man, even if it meant leaving Jack behind.  He had not known to even ask the man if he wanted to go with him, he just ran.  Then a one night stand left him with a daughter and he knew he had to go home.  
Things between these two are strange but how it is actually told leaves quite a bit out.  It felt like something was missing from the story.  Even with that being said, it is still an enjoyable read.  The build-up between these two actually goes smoother than one would expect and maybe that was what was wrong.  There was no arguing or letting his feelings really come out with Jack.  I think that it went too easy for Connor and even though he wasn't a bad wolf, it just didn't roll like I wanted it to.  It did give me an ending that was close to perfect, it just felt off.  Other than my issues with it, the story is a fun one.  
I enjoyed reading it and can't wait to see what the next book will bring, or at least I hope there is another story coming.  It would be great to see what is going to happen with the guys in the future.