Hi peeps, we have Brigham Vaughn and K. Evan Coles stopping by today with their new release Calm, we have a great excerpt and a brilliant $10 Amazon GC giveaway, so check out the post and enter the giveaway! <3 ~Pixie~
Calm
by
Brigham Vaughn & K. Evan Coles
A love worth the wait.
When Riley Porter-Wright comes out as bisexual and confesses his feelings for Carter Hamilton, it severs their friendship. Carter's rejection forces Riley to move on and he's shocked to learn Carter's marriage has fallen apart.
Overwhelmed by his failure as a husband and father, Carter misses Riley, but feels guilty for disappearing after Riley's coming out. After Riley extends an olive branch, the former friends agree to repair their relationship.
Slowly, Carter pieces together a new life. He admits his attraction to men, and confesses his feelings for Riley. Leery of Carter's initial rejection, Riley turns his focus on a new man, Will Martin.
Riley and Carter's renewed rapport intensifies, and Will becomes insecure. Will's resentment increases until he issues an ultimatum, forcing Riley to refocus his energies away from Carter.
Disappointed, Carter fosters new friendships with men like Jesse Murtagh. Aware of the changes in Carter's life, Riley is uncomfortable knowing Carter has moved on.
Carter and his ex-wife, Kate, navigate new waters as their children learn their parents are dating other people. Will can't deal with his jealousy and ends his relationship with Riley.
Unattached for the first time in years, Riley and Carter slowly transition their friendship into a relationship. Carter comes out and leaves his job, accepting the reality of being disowned.
Riley and Carter go public with their relationship, but worry the fallout will affect their families. Drawing strength from each other, they meet the challenges of being an out couple head on.
Reader Advisory: This book contains polyamory and infidelity.
Publisher's Note: Wake, the prequel to Calm, is available to order and download now.

Excerpt!
"I'm really sorry, Ri," Carter blurted. Riley pressed his lips tightly together. "I'm sorrier than you can imagine for the way I disappeared after you came out. I didn't know what else to do…how else to keep everything together. But I should have been a better friend to you."
The tips of Riley's ears turned red as he stared at Carter. A server approached then and Riley changed gears instantly, smiling as he ordered a large macchiato.
Carter ordered the same, aware of Riley's gaze, and cursed himself for becoming so flustered.
"I've never been here before," he began when they were alone again, striving to keep his voice light. "Come here often?"
Riley nodded. "Often enough to know what's good without really needing to think about it. I have friends in the neighborhood and this is one place everyone agrees on when we're craving different kinds of food."
Carter dropped his gaze to the tabletop while Riley spoke. He imagined the man from the photographs to be one of the friends Riley had mentioned. Riley looked relaxed tonight, impossibly handsome and put together in his beautiful blue suit. Whatever difficulties he'd experienced since coming out, he was clearly flourishing now. And wasn't Carter a god-awful mess in comparison?
"Carter?" Riley's gaze had thawed slightly when Carter looked up. "I was asking how you've been."
"I'm…still trying to figure stuff out." Carter gave him a weak smile. "I wasn't lying earlier when I said that I was coping. I still have my job, though, see the kids and sometimes get together with friends. I do okay."
Riley gave him a knowing glance. "But nothing's the same. Everything in your life—"
"Is different," Carter finished. "Pretty much everything outside of my job is radically different. And figuring it all out is fucking tiring."
"I understand," Riley replied.
"I know you do." Carter clasped his hands together in his lap. "Dan's been pushing me to talk to you…told me if anyone would understand how I'm feeling, it would be you."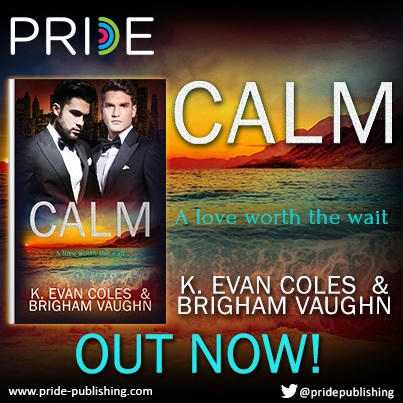 About Brigham & K!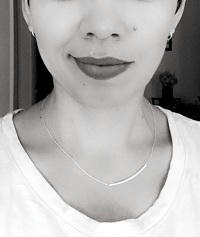 K. Evan Coles is a mother and tech pirate by day and a writer by night. She is a dreamer who, with a little hard work and a lot of good coffee, coaxes words out of her head and onto paper.
K. lives in the northeast United States, where she complains bitterly about the winters, but truly loves the region and its diverse, tenacious and deceptively compassionate people. You'll usually find K. nerding out over books, movies and television with friends and family. She's especially proud to be raising her son as part of a new generation of unabashed geeks.
Blog | Twitter | Facebook | Pinterest | Instagram | Goodreads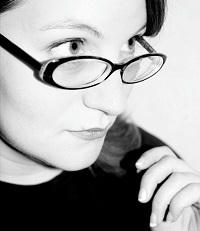 Brigham Vaughn is starting the adventure of a lifetime as a full-time writer. She devours books at an alarming rate and hasn't let her short arms and long torso stop her from doing yoga.  She makes a killer key lime pie, hates green peppers, and loves wine tasting tours. A collector of vintage Nancy Drew books and green glassware, she enjoys poking around in antique shops and refinishing thrift store furniture. An avid photographer, she dreams of traveling the world and she can't wait to discover everything else life has to offer her.
Facebook | Facebook Author Page | Facebook Fan Group (Brigham's Book Nerds) | Google+ |Instagram | Pinterest | Twitter | Email: brighamvaughn@gmail.com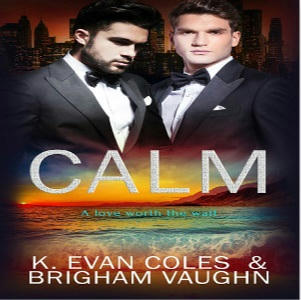 Giveaway!
Win a $10 Amazon Giftcard!