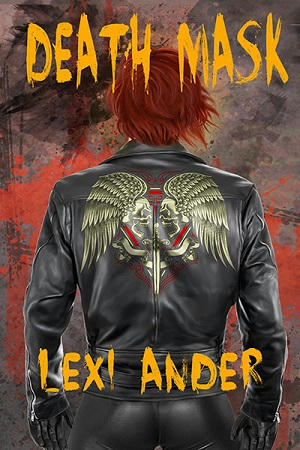 Title: Death Mask
Series: Black Harbinger MC # 1
Author: Lexi Ander
Genre: Fairy Tales, Roughhouse Raiders, Urban Fantasy 
Length: Novella (115pgs)
Publisher: Less Than Three Press (November 9, 2016)
Heat Level: Moderate
Heart Rating: ♥♥♥♥♥ 4 ½ Hearts
Blurb: Grim Misery, the President of the Black Harbinger Motorcycle Club, discovers a wounded warlock and four werepups aboard the club's LSD shipment. And the news keeps getting better and better. Not only is the warlock sitting on the edge of death, he's illegally bonded to the werepups, which could trigger a war with the werewolves—and he turns out to be Misery's estranged husband.
Years ago, Griffin turned Misery away to be with another warlock by the name of Marcheso Aldo. Misery left everything behind, even his family, but couldn't shake the heartbreak Griffin caused. With Griffin thrust back into Misery's life, he discovers things aren't as they seem… and everything is about to get much, much worse
ISBN: 9781620048849 
Product Link: https://lessthanthreepress.com/books/index.php?main_page=product_bookx_info&cPath=106_139&products_id=1231
Reviewer: Shorty 
Review: Wow. Grim is the president of the Harbinger MC's. When he is informed of a problem with a shipment he goes to investigate and finds his husband, (who chose another over him years before), on deaths door and were pups blood-bonded to him. Griffin had his reasons for doing what he did years before and it had nothing to do with wanting another.
The reasoning was heart-breaking as well as distasteful on the part of the warlock who wanted more power by any means necessary. There is a whole cast of characters that were both intriguing and terrifying. I loved the plot of the good versus the bad. The way the story played out was fantastic as each had a role to play. The different beings were a plus for me as usually there are only one or two in a story. That is not the case here.
So to say this is a good read is an understatement. It had angst, celestial beings, weres, action, drama, mystery and romance. Great read that I highly enjoyed.
I am looking forward to reading more in this series.