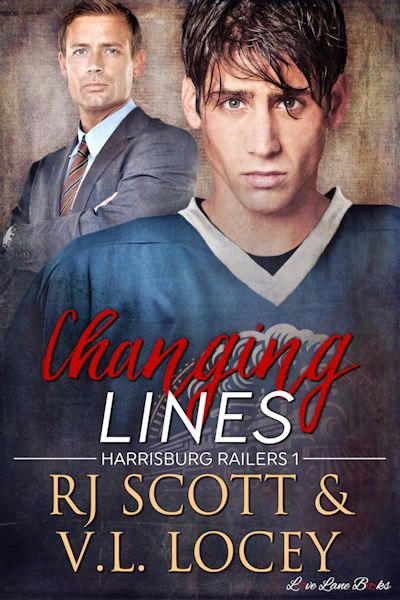 Title: Changing Lines
Author: R.J. Scott & V.L. Locey
Genre: Contemporary, Sports
Length: Novel (211pgs)
ISBN: 9781785640797
Publisher: Love Lane Books (12th July 2017)
Heat Level: Moderate
Heart Rating: ♥♥♥♥♥ 4 ½ Hearts
Reviewer: Pixie
Blurb: The Rowe Brothers are famous hockey hotshots, but as the youngest of the trio, Tennant has always had to play against his brothers' reputations. To get out of their shadows, and against their advice, he accepts a trade to the Harrisburg Railers, where he runs into Jared Madsen. Mads is an old family friend and his brother's one-time teammate. Mads is Tennant's new coach. And Mads is the sexiest thing he's ever laid eyes on.
Jared Madsen's hockey career was cut short by a fault in his heart, but coaching keeps him close to the game. When Ten is traded to the team, his carefully organized world is thrown into chaos. Nine years his junior and his best friend's brother, he knows Ten is strictly off-limits, but as soon as he sees Ten's moves, on and off the ice, he knows that his heart could get him into trouble again.
Can Tennant show Jared that age is just a number, and that love is all that matters?
Purchase Links: Amazon US | Amazon UK 
Review: Tennant is happy moving to the Harrisburg Railers even if his older brothers' think it's a stupid move, it's his chance to prove that he's just as good as anyone else and he can make it on his own. Mads is one of the coaches for the Harrisburg Railers and seeing Ten again knocks him for six, Ten isn't the little boy he used to know but starting a relationship with the stunning man is out of the question… not least because he's friends with Ten's older brother.
This is a fantastic start to a new series for both R.J. Scott and V.L. Locey. I have to admit that sport's isn't my favourite genre, but there's something about Ice Hockey that just rocks.
Ten is a great character who has his life spread out before him and he plans on grabbing on to what he wants with both hands. Mads has settled into coaching after his Ice Hockey days were over, he's got a great teenage son and an interfering infuriating ex's father to contend with. Throw Ten and Mads together and we get a passionate story that has a touch of angst, lots of roaring arguments, some excellent skating and a great storyline.
While both Ten and Mads are brilliant characters the supporting characters are just as good, from Ten's brothers to the Harrisburg Railers team they are an interesting mix and fully entertaining. I have a secret hope that Stan will one day get a story because that Russian goalie is just one excellent character!
I recommend this to those who love sports stories, love a dash of angst, who adore characters with explosive temperaments, and who love watching two men overcoming fears and embracing their love for each other.