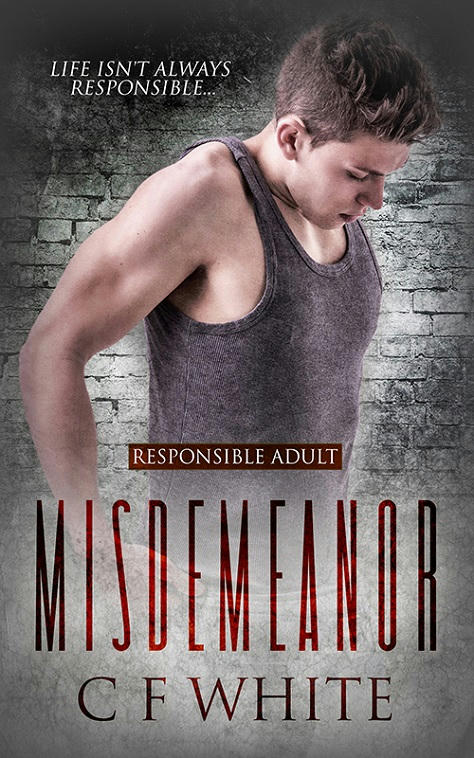 Title: Misdemeanor
Series: Responsible Adult 01
Author: C.F. White
Genre: Contemporary
Length: Novel (226pgs)
ISBN: 978-1-78651-566-7
Publisher: Pride Publishing (4th July 2017)
Heat Level: Low
Heart Rating: ♥♥♥♥♥ 4 ½ Hearts
Reviewer: Pixie
Blurb: Life isn't always responsible
After his mother tragically dies and his deadbeat father goes off the rails, nineteen-year-old Micky is left to care for his disabled little brother, Flynn.
Juggling college, a dead-end job and Flynn's special needs means Micky has to put his bad-boy past behind him and be the responsible adult to keep his brother out of care. He doesn't have time for anything else in his life.
Until he meets Dan…
Purchase Link: Pride Publishing | Amazon UK | Amazon US 
Review: Micky has had a difficult life but now at nineteen he has begun to turn his life around, he's just got a half decent job, he's studying for his exam re-takes and he's desperate to keep his little brother Flynn out of care. He hasn't got time for relationships and then he meets his new manager Dan.
This is a wonderful story that shows a more true to life living than is usually seen in books. Micky is a guy who has been handed a crappy life, he's determined to turn it around though for his little brother but life keeps throwing up obstacles that threaten to destroy everything he is working towards. Dan has had a pretty easy life and although he's working a job that he never thought would be permanent he's pretty happy except for the lack of a boyfriend.
When Micky and Dan get together, it isn't easy for either of them. Micky can't just throw himself into a relationship, not just because he's in the closet, but also because he's worried about Flynn. Flynn is an absolute darling, he has Williams syndrome and you just want to snatch him up and snuggle him to death for his sweetness. Dan has his own small demons from previous relationship break-ups so he feels like he's on rocky ground especially when Micky pushes him away.
The characters in this story are brilliant written, they jump off the page with their vitality and I'm not just talking about Micky, Dan and Flynn, I mean all the characters. They have an air of realness to them, I know that I myself was reminded by some of the characters to friends I've had over the years. They really do remind me a lot of my teenage year's friends… and I now find that really creepy LOL.
This storyline is an amazing one; it brings the simple mundane life to the forefront and shows the struggles against a system and snobbery by a young man just trying to improve his lot in life for his younger brother. I dare anyone not to fall in love with Flynn, to admire Micky, and to hope that Dan can continue to wear Micky's walls away.
My only niggle at this story was the ending, the abrupt way it cut off on a cliff-hanger had me gritting my teeth and cursing the author out… come on did you have to end it just there?
Anyway, I recommend this story to those who love more lower class real life stories, who adore young children who are cherubs, who want to see two young men find each other and the beginnings of love, and who want a story that has you hooked from the first couple of pages.