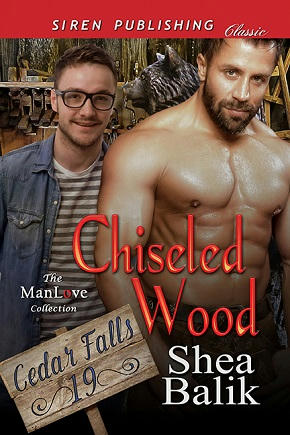 Title: Chiseled Wood   
Series: Cedar Falls #19   
Author: Shea Balik
Genre: Contemporary
Publisher: Siren-Bookstrand, Inc. (May 4, 2017)
Length: Novella (148pgs)
Heat Level: Low
Heart Rating: ♥♥♥♥♥ 5 Hearts
Blurb: Welcome to Cedar Falls, a small North Carolina town nestled amongst the Smokey Mountains. Where the people are friendly and the men are hot.
Kyler Prince is determined to find his place in this world. But with only the sheltered commune he grew up in as experience, his hope of finding somewhere he could fit in seems impossible. That is, until he ended up in Cedar Falls.
Aaron Garnett has dark desires. After he meets Kyler, he fears the innocent man would run if Aaron ever showed him what he truly wanted in a lover. But Aaron's just not sure he has the strength to stay away from Kyler.
Can Kyler convince Aaron that his desires run just as dark, or will Aaron feel the risk is too high to give him a chance?    
ISBN: 978-1-64010-302-3
Product Link: http://www.bookstrand.com/book/chiseled-wood
Reviewer: Lisa
Review:  Each book in the Cedar Falls collection features a new romantic couple. To enjoy the overall story arc and crossover characters, I would recommend reading the series in sequential order. 
I love the way this author can put together a book that not only fascinates you but draws you in. I had a blast reading this and look forward to reading more by this amazing author. This is one of those types that even after you have read the whole book you just want to go back and read it again.  
Kyler was raised in a commune his entire life.  There are many things he doesn't understand out in the wild and crazy world.  When you add Jesse and his friends, well you can see how this poor guy can get lost.  He spent everything he had to get to Cedar Falls just praying he got a job.   This is one guy that needs as many friends as he can get, and to top it all off he is living out of his car.  Then he meets the sexy Aaron.
Aaron is a Dom and one look at Kyler tells him that this man is a true innocent.  Trying to stay away from him might just back fire on him.  He sees the beauty in the man's smile that just draws him in even more.  Take that chance and jump, now if you want to know the down and juicy well you're just going to have to pick up this book.
I love how it has that serious tone to it but there is so much humor in it that your attention is captivated throughout it all. I loved the cover and that was what caught my attention first. Although to be honest any book that Shea writes is automatically bought by me. I just can't seem to get enough of this series. There is something about the way that Shea more than likely have you laughing your ass off at parts of it. Especially Jesse, and now you are going to meet the mini-Jesse. The characters are beautifully written with big hearts, however if you cross them, they have no problem putting you down. They will protect their friends and family with their entire lives. I had a blast reading this story.
This story is perfect for when you are trying to take a break or when you just need the sun to shine for you. It caught my attention from the moment I started reading and kept it all the way to the end. It also gave me everything I could want in a book. I can honestly tell you that this is going to be one of those types of series. One that I will have to read over and over. I love the way all the feelings they felt was involved in this story. It was the perfect story for me and I loved it. I can't wait to read the next story.