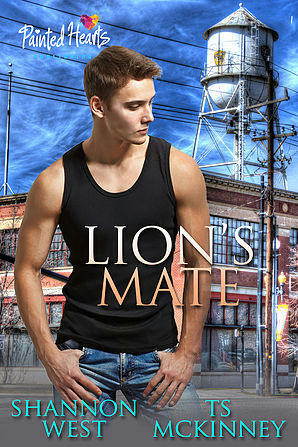 Title: Lion's Mate  
Series: Hell's Creek 01   
Author: Shannon West & T.S. McKinney
Genre: Fantasy, Paranormal
Publisher: Painted Hearts Publishing (May 9, 2017)
Length: Novella (103pgs)
Heat Level: Low
Heart Rating:  ♥♥♥ 3 Hearts
Blurb: When Julian Montague rolls into a small mill town on the back side of nowhere, he isn't looking for any trouble. He's broke and fallen on hard times—but his idea to run from a license check on a main highway has backfired. He went off road on his motorcycle and now he's hopelessly lost and almost out of gas. Stopping at the only station in town, he's confronted by bullies with a gun who insist he's on the "wrong side of the line" and then proceed to attack him. Fighting them off, he heads for the dubious safety of the "other side" when he's attacked by a wild animal and crashes, almost killing himself. Waking up tied to a bed, he's startled to find his injuries are being tended by a large, handsome man named Leo who bosses him around, showers him with affection and insists on calling him kitty. Something is going on in this strange town called Hell's Creek, involving the large paper mill and the strange inhabitants who live in separate territories and answer only to the Company. Julian needs to find out what it is before he finds himself the "mate" of another man—and the main problem with that is that he's beginning to like the idea way too much.
ISBN: 978-1-946379-25-2
Product Link: http://www.paintedheartspublishing.com/lionsmate
Reviewer: Lisa
Review: I came across this author a couple of years ago and found her stories intriguing.  However I also remember that they didn't stand out in my head like they should have.  So when I was given this story, I was interested in seeing how the author's work had grown.  
When Julian was five years old his parents had been killed and he was raised in foster care.  Now if you know about foster care they take care of certain needs but not a lot of love goes around.  When he decides to take off, there are many obstacles for him to get through.  He is flat broke and his bike doesn't have the proper tags.  So trying to get away from a road block leads him right into Hell's Creek.  It actually takes him right into Dogtown.  What he doesn't know or understand is that Dogtown is actually a town full of canine shifters whereas Cat's town is for Felines.  His life is about to be torn into and twisted.
Leo is the leader of the felines but life is not as calm as one would think.  There is much fighting between the felines and canines.  He was to mate with another, but to his surprise Julian is his true fated mate.  The problem is the man has no clue what is going on, nor what he really is.  Things are about to get interesting.
Now the story has great potential and the characters are strong enough to keep the fight going on.  However for me, this story was more detail and descriptions, which is a drag.  Leo might be the leader but in fact he doesn't really seem like it.  The reason for these two towns and the separation is because of some company.  For me an alpha would not listen to the company but take care of his pride or pack.  The connection between these two men is somewhat questionable.  There is heat there but something is really off about them both.  It is a long winded story that just did the opposite of what it should have done.  As a reader my attention waivered quite a bit with the story. 
Like I said above the story had great potential but for me failed to deliver.  I normally won't read the next books because I don't have a great reaction to the first book, however I am interested enough to see what the next story will be like.  I just could have done without the amount of descriptions and the use of kitten.  So far this story is not giving me a great impression, but will leave my final feelings for the next book.