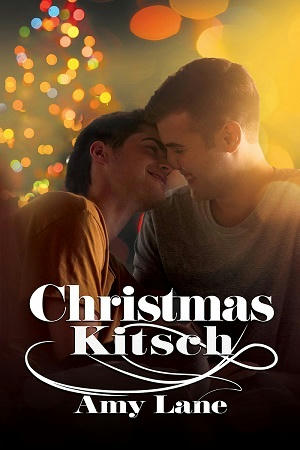 Title: Christmas Kitsch
Author: Amy Lane
Genre: Contemporary, New Adult, Coming Out
Length: Novel (200pgs)
ISBN: 978-1-64080-503-3
Publisher: Dreamspinner Press (7th December 2018)
Heat Level: Low – Moderate
Heart Rating: 💖💖💖💖💖 4 ½ Hearts
Reviewer: Pixie
Blurb: Sometimes the best Christmas gift is knowing what you really want.
Rusty Baker is a rich, entitled, oblivious jock, and he might have stayed that way if he hadn't become friends with out-and-proud Oliver Campbell from the wrong side of the tracks. When Oliver kisses him goodbye before Rusty leaves for college, Rusty is forced to rethink everything he knows about himself.
But nothing can help Rusty survive a semester at Stanford, and he returns home for Thanksgiving break clinging to the one thing he knows to be true: Oliver is the best thing that's ever happened to him.
Rusty's parents disagree, and Rusty finds himself homeless for the holidays. But with Oliver's love and the help of Oliver's amazing family, Rusty realizes that failing college doesn't mean he can't pass real life with flying rainbow colors.
Purchase Link: Dreamspinner | Amazon US | Amazon UK
Review: Rusty has always gotten everything he wanted without even really trying, he might be expected to follow in his father's footsteps but he fully admits to being the stereotypical dumb jock. When he meets Oliver his views begin to change, he wants more than to go into his father's business, he want to do something that makes him happy. Oliver is out and proud, he's from the wrong side of the tracks and his best friend puts himself down. Kissing Rusty is one of the best things he has ever done and being there for Rusty as he struggles through his first semester at Berkeley keeps him hoping that Rusty will wake up to his true feelings. Rusty heads home for the holidays knowing just what he wants but his parents have very different ideas, when he finds himself tossed out on the street it's Oliver and his family who help him back on his feet, but can Rusty accept the love that Oliver offers or will his stubborn pride keep them apart?
This is an incredibly wonderful story where a young man finds himself and sets out to live his life in happiness and accepting that family is more than who you are born to. Rusty is a character who is easy to fall in love with, he has no illusions about himself and knows his limits, although he is very hard on himself and self-disparaging. Oliver is a lovely young man who guides Rusty as much as he can to recognize his feelings and to also buff up Rusty's confidence. They make a perfect couple who have the usual teenage problems involving pride and confidence, but their support of each other is heart-warming.
We follow these two young men as they make friends and develop a friendship that can and does stand against pressure. Rusty is oblivious to many things around him but finds that he has much more going for him in a world he makes for himself, rather than the world his parents want for him. His relationship with Oliver is the cornerstone for all that he wants to build and we see his heartache as he strives to be something he isn't, we see Oliver and his family pulling around Rusty as his own parents turn their back on him and we see Rusty blossoming into a man to be proud of. Rusty and Oliver's relationship is an incredible one, they have their ups and downs but it is all based in love and when they are together, it makes you smile.
I adored this story. I couldn't put it down. I wanted to know what would happen to these two young men as they faced life with love from one side but disapproval from the other side. The story is from Rusty's point of view but you get to know Oliver perfectly through Rusty's eyes and Rusty is an honest character, there's no false pretense in him so what you see is what you get.
The story is written perfectly, the characters come to life and it is a storyline that happens all too often in real life. You get behind these two young men cheering for them as they build their lives, you feel their heartache, pain and disappointment, their confusion and hurt, their love and happiness and their dreams of the future.
I recommend this to those who love young adults starting their lives, fantastic characters, wonderful family, new blossoming love and an incredible ending.