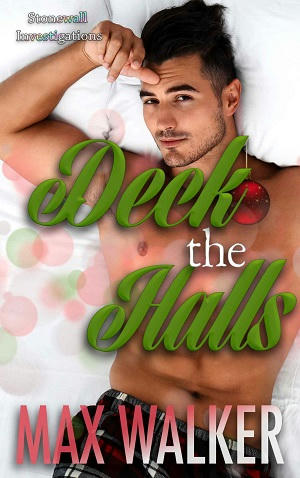 Title: Deck The Halls
Series: Stonewall Investigations
Author: Max Walker
Genre: Contemporary, Mystery, Holiday
Length: Novel (266pgs)
Publisher: Max Walker (November 26, 2018)
Heat Level: Low
Heart Rating: 💖💖💖💖💖 5 Hearts
Blurb: Andrew Barker is ready for the holidays. His perpetually bright and cheery personality feel right at home for Christmas. He has time off from work and a husband who's waiting for him at home, what else would he need?
Well, he had no idea he would be needing to sign divorce papers – let's start there.
Declan Rose-Covington, part of a luxury hotel dynasty, is coming into Stonewall Investigations because he needs help with a family issue. With his mom's huge holiday retreat around the corner, he's hoping to solve it before Santa comes to town. The last thing he's expecting is to enter the detective agency and fall for the strikingly handsome man sitting behind the front desk.
Of course, life has ways of delivering well-wrapped surprises.
When Declan and Andrew meet they both feel an instant connection. Soon, the connection grows powerful enough to push Declan toward a crazy proposition: invite Andrew to the family retreat as a fake boyfriend. Andrew would get a nice week-long vacation out of it and Declan would avoid the judgemental jabs from all the spoused-up family members.
The potential for disaster was there, but there was also a chance to truly make this the most wonderful time of the year. And that was something neither of them wanted to miss out on.
ISBN: B07KX5WYGH
Product Link: Amazon US | Amazon UK
Reviewer: Lisa
Review: Andrew loved the holidays, Christmas was his favorite of them all. He went all out at home and at work. That is until he found out that his husband had someone else dancing on his pole. So a divorce we will go but when a sexy man looking to hire one of the detectives gives him the eye, well maybe Christmas wasn't lost.
Declan knew someone was stealing from his mother. He was pretty sure it was his step-father, but he isn't for sure. So it Christmas time and he was do at the home for the holidays. Lets just say he wasn't looking forward to it. The one and only without someone else might just be a bit painful. So he asks Andrew, who I might add he has the hots for, to pretend to be his boyfriend. Well lets just see how long it last, the pretend part.
Many twists and turns to go in this amazing book. Now normally I would suggest reading these stories in order but this one can actually be read alone. For a Christmas story you have action, some very hot smooches, excitement and the hope of new love just waiting for you to read. I only found one issue with the story, but it is probably just me. I loved the characters quite a bit and lets just say Declan's mom and grandmother are a hoot. They are what I would love to have for a family.
I wished this author put these books out faster because they are a blast to read. I get a kick out of the whole series. I absolutely loved reading it and can't wait to read it again. I can guarantee that it will be read many times over.